We are excited to showcase some of Puerto Vallarta's new restaurants for 2020. These are the new trendy hot spots for dining in Vallarta. Provecho!
D'Cortes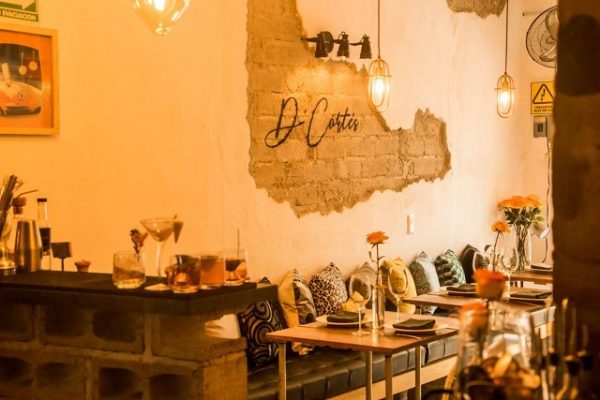 Chef Polo Cortes has created a unique dining experience that everyone is raving about. After twenty years of cooking in gourmet restaurants in France, Germany, Spain, Costa Rica, and Mexico, Chef Cortes, opened his own place here in Puerto Vallarta, in the Caloso neighborhood (just behind Old Town).
The room is warm, artful, and beautifully designed. The menu is ambitious, and the cuisine is fusion-a masterful blending of elements of European Cuisine with the flavors and recipes of Latin America. The food is simply amazing. Chef Polo Cortes has created a culinary sensation!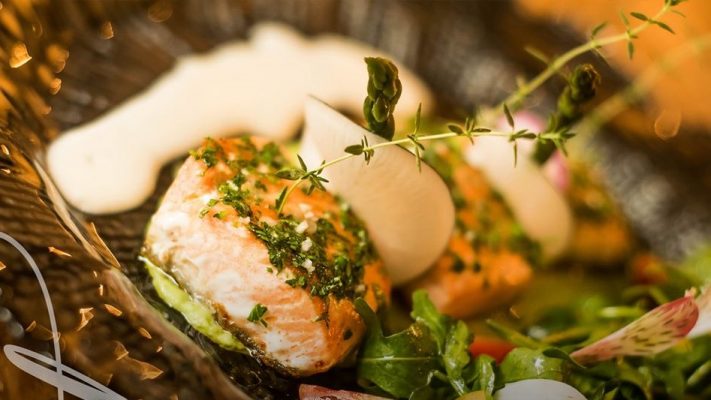 We recommend the grilled fish filet. Located at Calle Via Lactia #222, Col. Caloso. Open from 4 pm till 11 pm, closed on Mondays. 322 244 1144. Here is their website.
La Fina Cocina de Barrio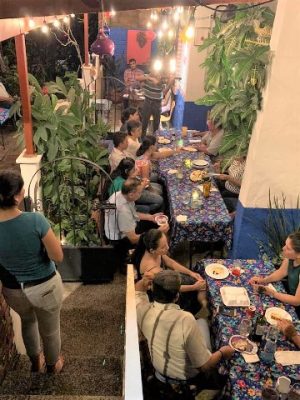 Another culinary gem has opened in the Caloso neighborhood. The venue is a small outdoor patio with just five tables. The menu changes daily and is presented on a chalk board. It's a family run restaurant with the chef's delightful mom often serving the meals.
Co-owners and chefs Emiliano and Laura, blend Mexican Cuisine with European and Asian influences. The food dazzles with a complexity and balance of flavors. We recommend the short rib, in a port sauce, with sweet potato puree and corn.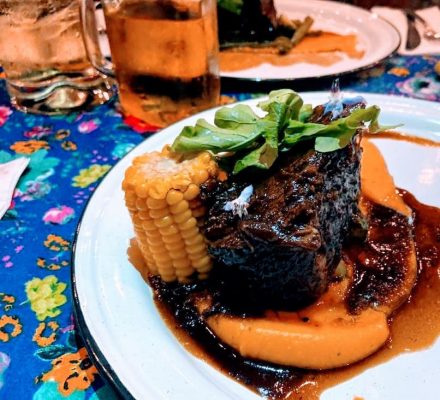 Note: Don't leave without ordering a dessert. Open 7 pm-11 pm Closed on Mondays. Calle Atmosfera #151, Col. Caloso. 322 136 7662
Puerto Marisco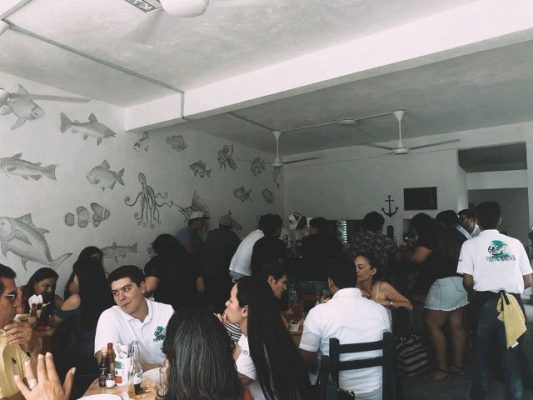 Seafood Sinaloa style. Most Mexicans will tell you the best seafood in all of Mexico, is found in the State of Sinaloa. Puerto Marisco brings the flavors and style of Los Mochis Sinaloa to Vallarta. A clean contemporary bright room with simple wooden tables. A favorite place with the locals.
We recommend the scallops and shrimp.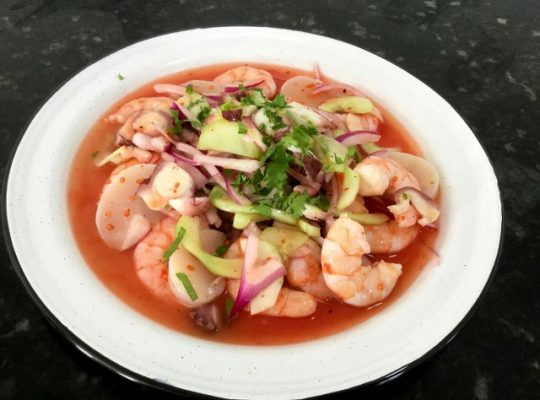 Puerto Marisco is located on Calle Aldanaca #126, Col. Versailles,  Open 1100 am to 6 pm (Closed Mondays). 322 108 9490.
Los Monos Bichis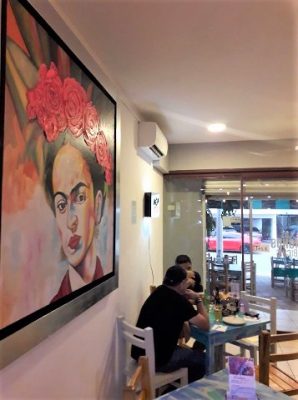 Another Sinaloa style seafood restaurant that opened just a year ago. This family brings their regional recipes from Mazatlan. We recommend the shrimp tostada with marlin pate, or the "el faro" a mixed seafood creation.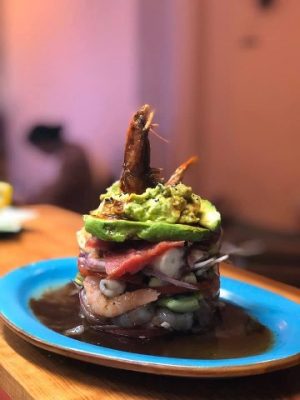 Los Monos Bichis is located on Calle Viena 209-B, Versailles Open 1 pm to 10 pm 322 170 2336.
Poblanos Cocina Mexicana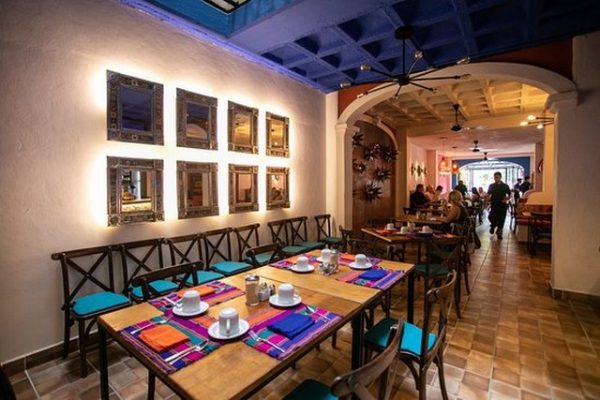 Michael Boufford has another hit on his hands. He has two wildly successful restaurants in Old Town, Bravos Restaurant (gourmet international dining) and Siam Restaurant (Thai Cuisine).
He has recently opened Poblanos Cocina Mexicana in Old Town and it's already a hit. Serving traditional Mexican cuisine, in a perfect location on the Cardenas Park. An intimate contemporary room with a casual relaxed ambiance. We recommend their chile en nogado.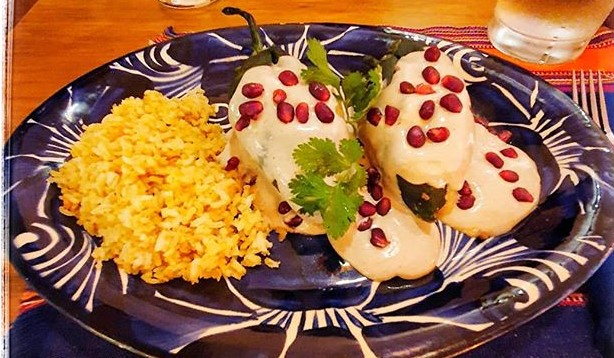 A mild sweet chile stuffed with meat, rice, nuts, vegetables, bathed in a walnut sauce, and sprinkled with pomegranates. Calle Cardenas # 179, Old Town. Open 8 am to 10:30 pm. Closed Mondays 322 365 1654. Here is their website.
Calmate Cafe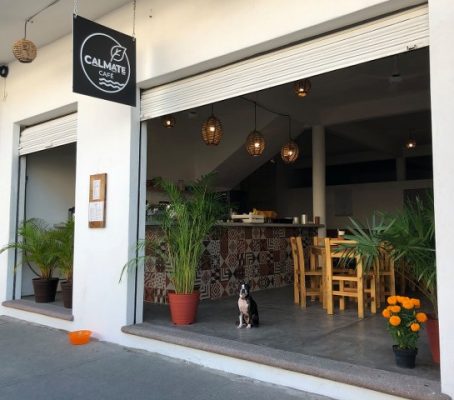 A cute little cafe, serving excellent healthy breakfasts and lunches with exciting and robust flavors. House blend full bodied organic coffee and fresh fruit juices and smoothies are on the menu. We recommend the blue corn taco with eggs, bacon, and avocado.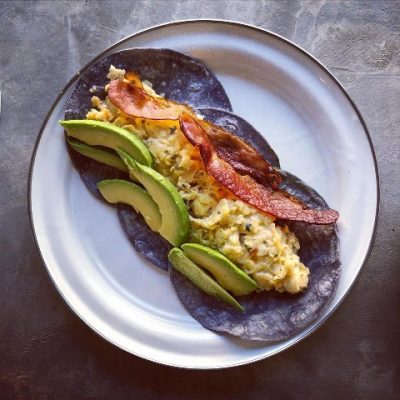 Calmate Cafe is on Calle Honduras # 218, El Centro. Open 8 am to 5pm. Closed on Sundays. 322 365 1557
Oregano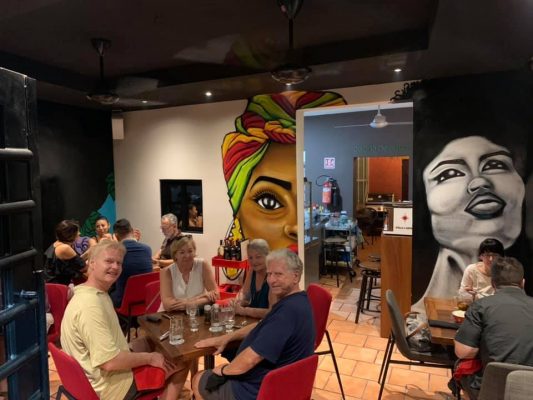 Chef Chela offers gourmet Caribbean flavors, Jamaican, Creole, and Cajun Cuisine, in a relaxed and warm ambiance. A contemporary hip room with Caribbean art and murals on the walls. The curry dish is the specialty of the house, or try the ox tail tacos.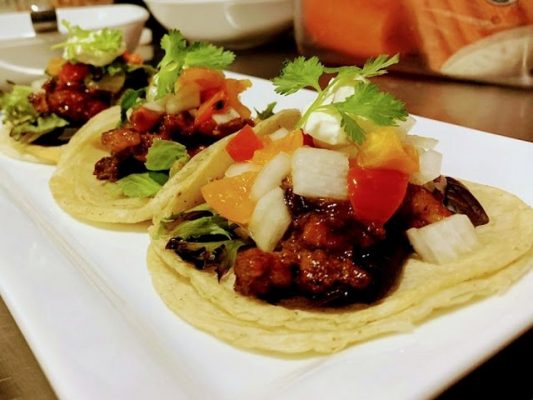 Oregano is located at Calle Aldanca #130 Versailles. Open 1 pm to 11pm Tuesdays-Saturdays. Sundays, 5 pm to 10 pm. Closed on Mondays. 322 596 1168 Here is their website.
Mykonos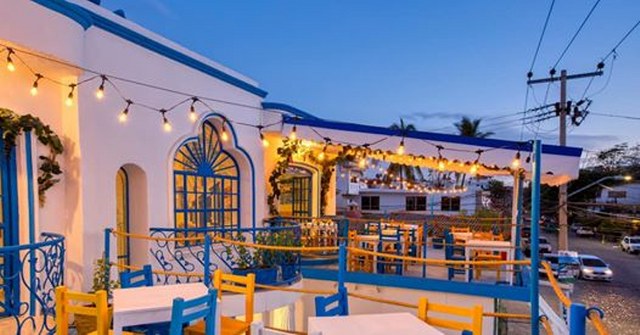 Chef Apostolis opened his new restaurant in Versailles to rave reviews. Dining is upstairs, with one small room inside, and two spacious outdoor terraces. Authentic Greek food served in a warm and friendly ambiance. We recommend the kebob served with rice and tzatziki.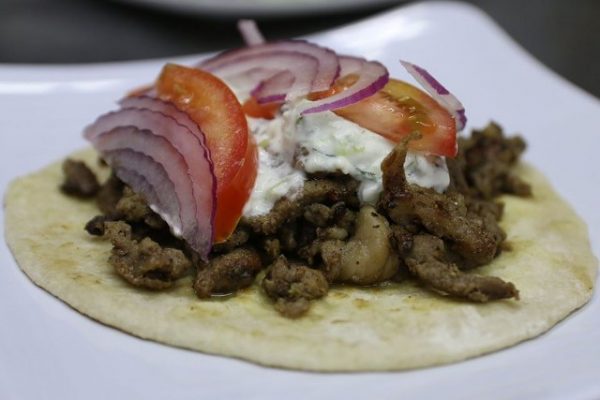 Mykonos is located on Calle Francia #199-B, Versailles. Open 2 pm to 11 pm. Closed on Sundays. 322 688 8956
Meños Place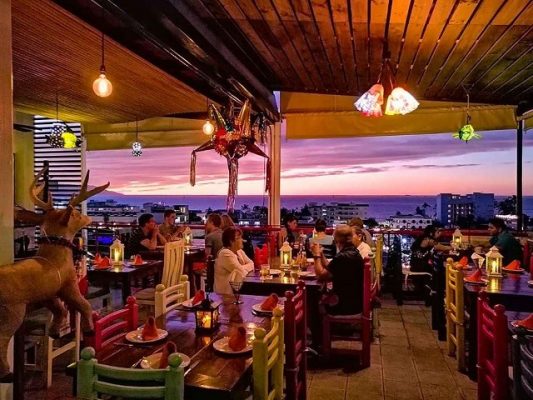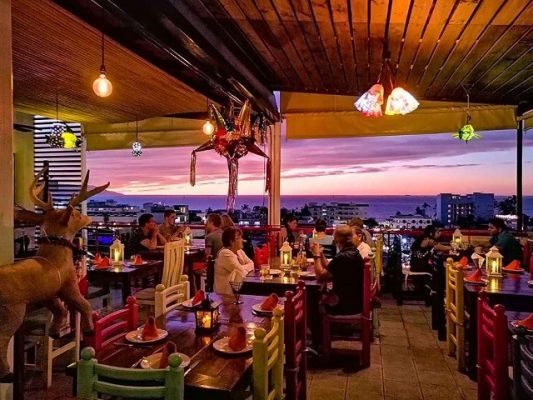 Meños serves delicious Mexican Cuisine with a spectacular view over the roof tops in downtown Vallarta. The room is spacious, open-air, with a warm and welcoming ambiance. We love the breakfasts here. And don't these veggie fajitas look amazing?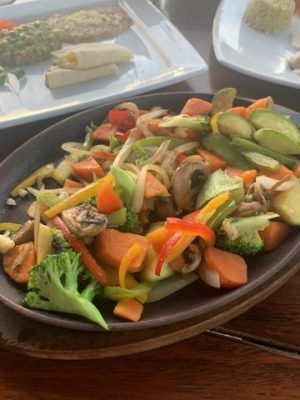 Open daily from 8 am to 11 pm. Calle Honduras # 348, Col. 5 de Deciembre 322 138 7650 ; 322 222 7549 Here is their Facebook page.
Budaixi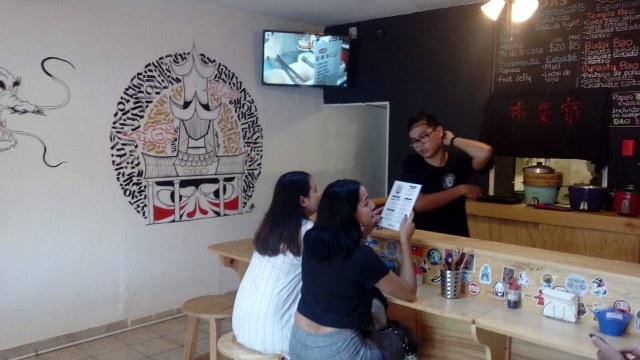 Taiwanese Cuisine. The food is authentic and amazing. We recommend the spicy chicken bao and wonton soup.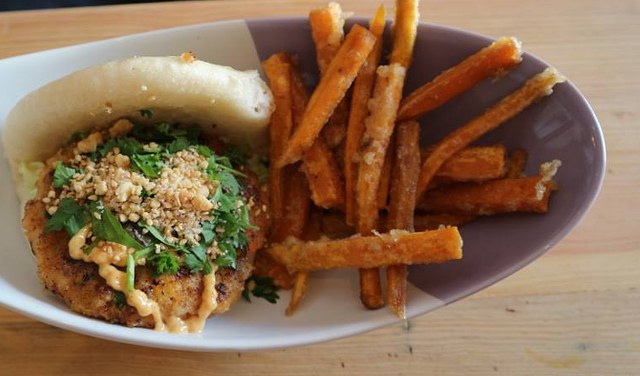 Budaixi is open 12 pm to 7 pm. Closed on Monday. Calle Hamburgo # 155 Col. Versailles 322 221 0983
Umai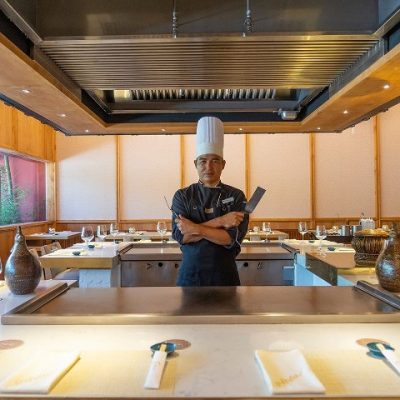 Japanese Cuisine and the best sushi in Puerto Vallarta. Located in the new resorts addition of the Sheraton Buganvilia Hotel. The room is contemporary with Asian accents. We recommend the spicy tuna roll and whole fried snapper.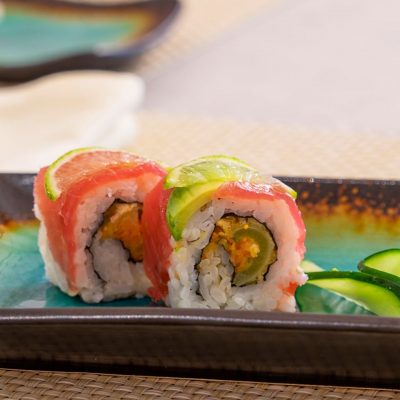 Umai is open everyday, 1 pm to 11 pm. Blvd Francisco Medina Ascencio, # 999, Hotel Zone. 322 226 0404. Here is their website
So many talented new chefs here, making the magic happen!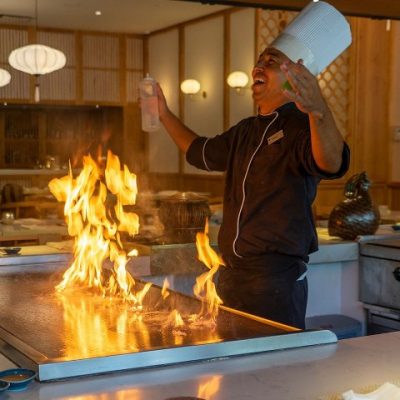 We visit some of these new trendy restaurants on our Seafood Lovers Tour and on our Discover Versailles Tour. Come take a tour with us!
If you are wondering about Vallarta's best restaurants for fine dining, check out our previous post 25 Best Restaurants in Puerto Vallarta.
Until next time, we'll see you out there on tour!