At Vallarta Food Tours, we guide you to the best authentic Mexican food and street tacos in town. In this post, we guide you to the best 27 restaurants in Puerto Vallarta, for fine dining, with brilliant and creative chefs, who represent the very best of international gourmet cuisine in Puerto Vallarta.

We have chosen the best restaurants in Puerto Vallarta and organized them by neighborhoods: Downtown, Old Town, Hotel Zone, Versalles, Marina Vallarta, and South Shore. Buen Provecho!
Best Restaurants – Downtown
Cafe des Artistes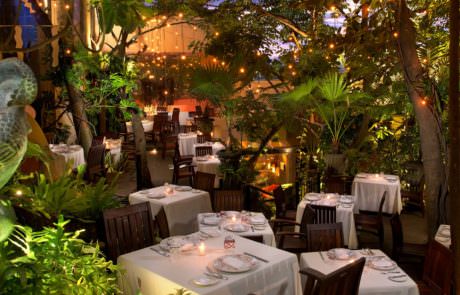 Chef and owner, Thierry Blouet, has brought french gourmet to Vallarta for over 29 years. Wildly creative, haute cuisine, in a charming garden setting, with an impressive wine list, and just a couple blocks off the malecon in el Centro. An exceptional dining experience in every way. We recommend the Lobster Tail in coconut and lemon emulsion. Open Daily. Guadalupe Sanchez, 740, El Centro, Tel: 322 226 7200. Here is their website
La Iguana Restaurant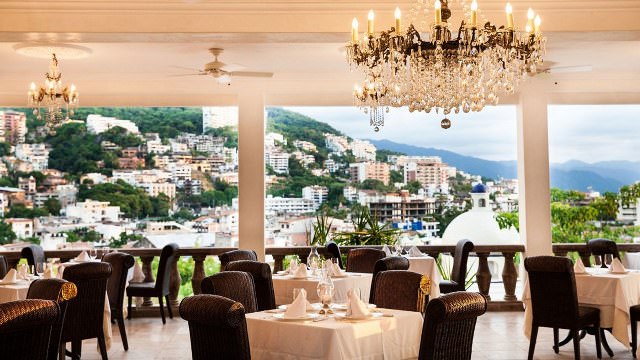 The restaurant is situated in Casa de Kimberly, a small boutique hotel and the former home of Actress Elizabeth Taylor. The house and grounds are lovely. The room is open-air and elegant with stunning views of jungle hillsides and coastline. Mariachis play while you dine.
Chef Jesus Suastegui's menu blends traditional Mexican dishes with modern culinary influences. We recommend the short rib, slow-cooked and glazed with hibiscus and jalepeño sauce, served over sweet potato puree. Open every night. Calle Zaragosa #445, El Centro. 322 222 1336. Here is their website
La Cappella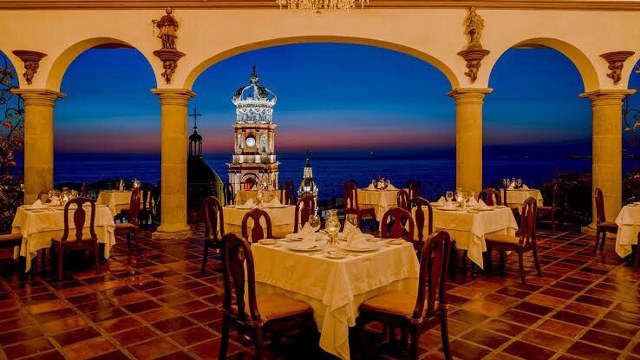 Perched on the hill behind the Church, the restaurant has an amazing view of the Church and Bay. A trio of violinists play, while you dine and the sunsets take your breath away. The Italian cuisine is perfection. We recommend the herb-crusted Chilean Sea Bass. Open every night. Calle Miramar #363, El Centro. 322 688 6269 Here is their website
Hacienda San Angel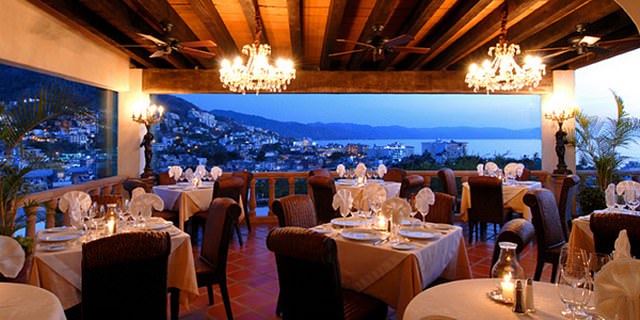 World-class dining with impeccable service. The roof-top setting is perched over the red tiled roofs of downtown Vallarta with commanding views of the Church and the Bay of Banderas. Mariachis play every night except Saturdays.
The cuisine is International and Mexican. The ambiance is perfection. The grounds are exquisite and you feel like you have stepped into old colonial Mexico. We recommend the chile poblano stuffed with shrimp in a chipotle tomato sauce. Open every night. Calle Miramar #336 El Centro. 322 222 2692 Here is their website
Trio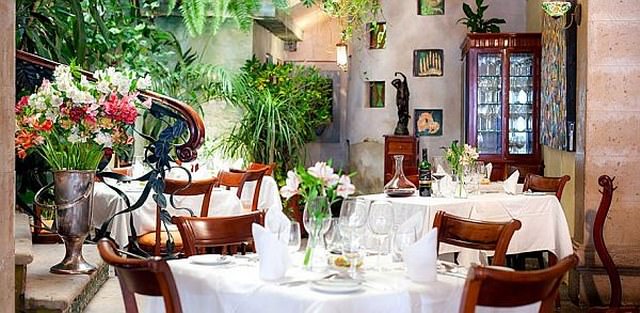 European Chef-owners Bernhard Guth and Ulf Henriksson offer fabulous Mediterranean flavors blended with Mexican spices, in a gorgeous setting, just one block north of the River Cuale.
The room is elegant and artful. The menu is eclectic and you want to order everything. We recommend the grilled rack of lamb, on eggplant and peppers, and zucchini-mint sauce. Open every night. Calle Guerrero #264, El Centro 322 222 2196 Here is their website
Gaby's Restaurant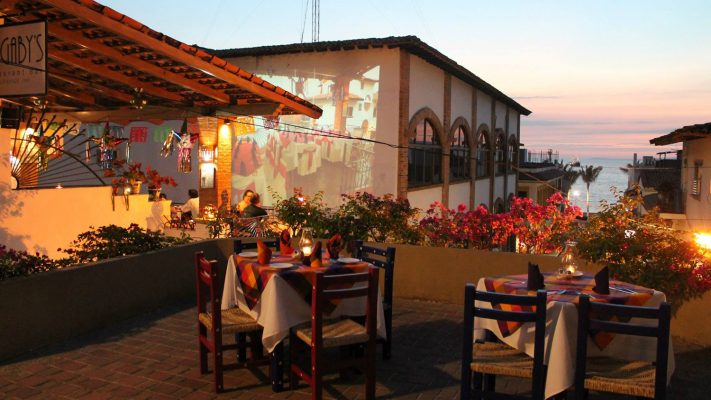 Gaby's is famous in Puerto Vallarta for their traditional Mexican cuisine. The family converted their home into a restaurant, thirty-one years ago, where three generations of Gaby's family are still running the restaurant. With tables throughout the house and a charming garden patio upstairs, Gaby's is an intimate, friendly, and inviting space. The upstairs garden patio overlooks the streets, Malecon, and Bay.
Chef Julio Castillon Perez, stays true to the traditional flavors and recipes, so perfectly prepared. We recommend the Chile en Nogada, a mild sweet poblano chile, stuffed with meat, vegetables, nuts, and pomegranates, bathed in a delicate walnut sauce and their mole. Open daily. Calle Mina # 252, El Centro, 322 222-0480. You can also have a tasting of their mole in our original downtown food tour . For more info click here.
El Arrayan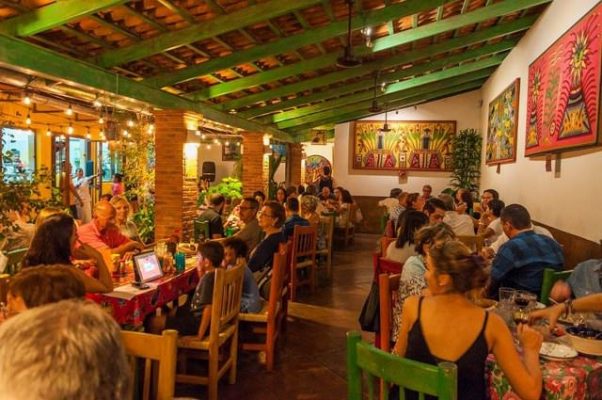 Owners Claudia and Carmen have been serving traditional authentic Mexican Cuisine here since 2003. Courtyard dining around an Arrayan Tree, with traditional Mexican decor, the setting is warm and inviting.
We recommend the duck carnitas (their specialty dish) or try the boneless chicken breast in two moles (red poblano y black Oaxacan mole) Closed on Tuesdays. Calle Allende #344, El Centro. 322 222 7195 Here is their website
Laylas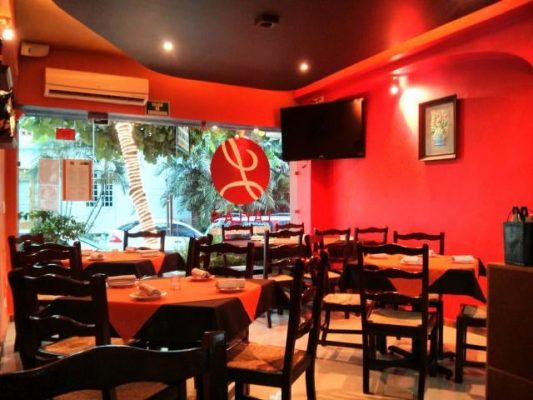 Chef Rodrigo Villar Martinez offers a fusion of Mexican and international flavors. Laylas has a cozy upstairs dining room, with attentive service and a nice choice of wines. We recommend the braised pork shank in adobo sauce. Closed on Mondays. Calle Venezuela #137, Col. 5 de December. 322 222 2436 Here is their website
Barcelona Tapas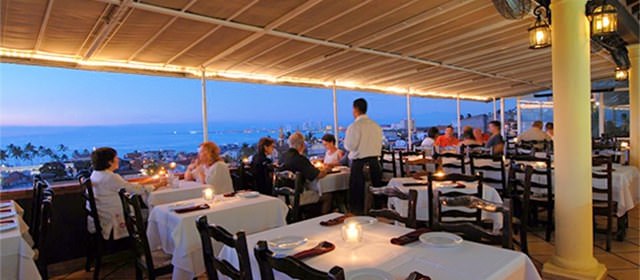 Roof-top dining, open-air, with a great metropolitan view of the city and the church above Hidalgo Park, just four blocks up from the Malecon. Chef William Carballo opened Barcelona Tapas in Puerto Vallarta sixteen years ago and has a loyal following here in Puerto Vallarta. Spanish cuisine, tapas style, and they do cooking classes too. We recommend the paella and octopus. Open daily, Calle Matamoros #906 El Centro 322 222 0510 Here is their website
Best Restaurants – Old Town
La Palapa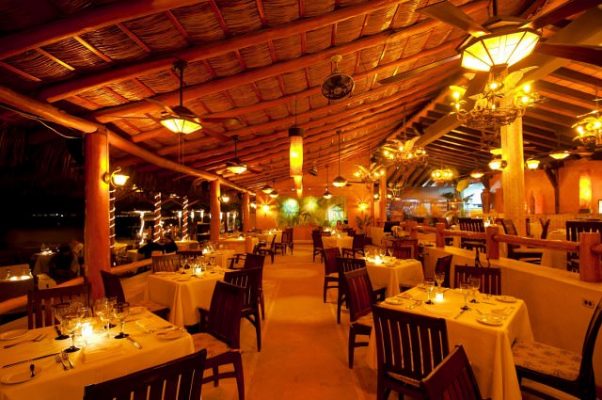 A historic and elegant restaurant on Los Muertos Beach. The room is a gorgeous open-air palapa for indoor seating, with several tables out on the sand beach. This was the first restaurant to open on Los Muertos Beach in the late 1950s. The founder's family still has the restaurant.
Serving Mexican Tropical Cuisine, combining Mexican, French, and Asian elements to present an unforgettable culinary experience. Recommended dish: Coconut Shrimp with mango puree and potato cilantro puree. Open Every Night. Calle Pulpito-105-3, Col. Emiliano Zapata. 322-222-5225. Here is their website
El Dorado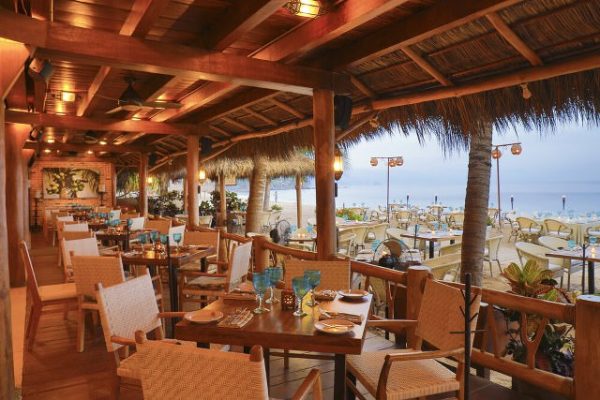 Next door to the Palapa Restaurant, is the sister restaurant, El Dorado. A big open-air palapa, comfortable seating, and also with tables out on the sand beach. Elegant dining on the beach.
We recommend the shrimp tamal, with salsa verde, jalepeño cream, fresh cheese, and pumpkin seeds. Open every night. Calle Pulpito #102, Col. Emiliano Zapata 322 223 5568. Here is their website
Makal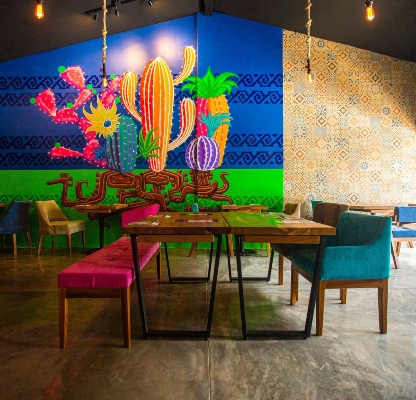 An elegant contemporary room with a welcoming ambiance. Chef Graham Campbell is a Michelin star chef and has been featured on Netflix Final Table series. Chef Graham offers an eclectic and impressive menu of fusion of modern Mexican with an international flair!
Their menu is constantly changing but some examples of their inventive dishes are scallop tartar with lemon vinaigrette, pork with green mole to die for, and inventive dishes such as empanadas with chapulines(grasshoppers) , cheese and guacamole . Closed on Mondays. Lazaro Cardenes # 311, Emiliano Zapata. 322 354 9878
Merida Grill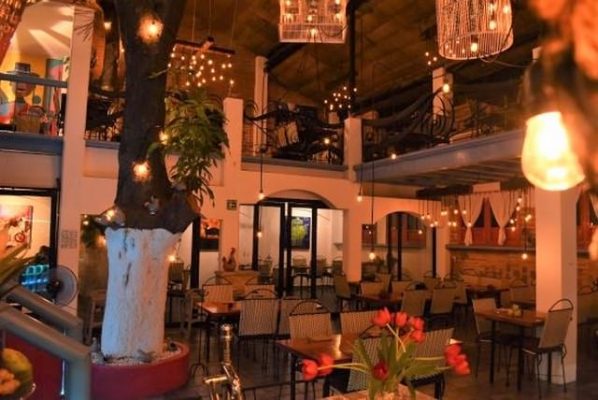 A dramatic two-story open room, built around a courtyard, with a massive tree extending up and through the roof. Also in the courtyard is their brick-lined cooking pit, for slow cooking cochinita pibil. (slow-cooked pork in an orange sauce with onion, cumin, oregano, and achiote seeds)
Chef Milton Castillon brings the flavors of Yucatan to the Bay of Banderas better than anyone. We recommend the cochinita pibil. Open every night. Calle Carranza # 210, Emiliano Zapata 322 222 7211 Here is their website
Tre Piatti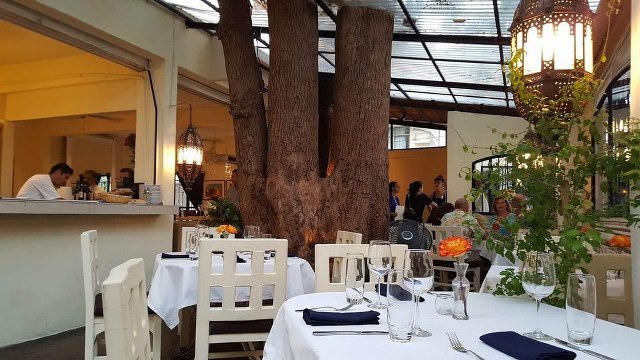 Tre Piatti offers two dining rooms. The front room is contemporary, chic, and filled with artwork. The patio dining is a charming courtyard setting around two huge mango trees. Chef Chanan and his partner, Pastry Chef Natalie, have the best real Italian restaurant in Puerto Vallarta.
The pasta is handmade in-house. We recommend the Mushroom Tortelloni. Closed on Tuesdays. Lazaro Cardenas # 292, Emiliano Zapata 322 222 2773 Here is their website
River Cafe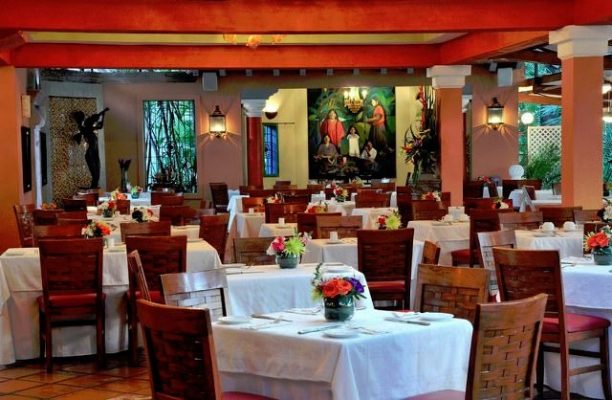 An inviting open-air room, in a garden setting, on the Island River Cuale. The River Cafe offers international cuisine with dining along the river's edge. Acoustic jazz and a fine selection of wines add to the enchantment.
We recommend the roasted mahi-mahi, with lemon butter, and gremolata sauce over spinach and broccoli. Open daily. Isla Rio Cuale, Emiliano Zapata 322 223 0788 Here is their website

Tintoque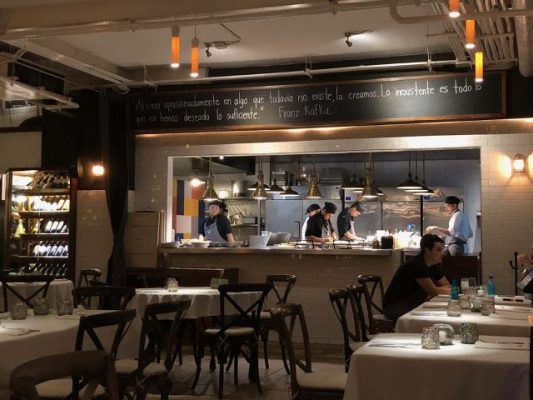 Local award-winning chef Joel Ornelas offers a unique international culinary experience, which includes contrasting textures, with acidic and spicy elements, beautifully presented. The room is contemporary, metro, and inviting. The menu changes daily. We recommend the 5-course tastings. Closed on Mondays. Aquiles Serdan #445. Phone number is 322 221 1460. Here is their website.
Joe Jacks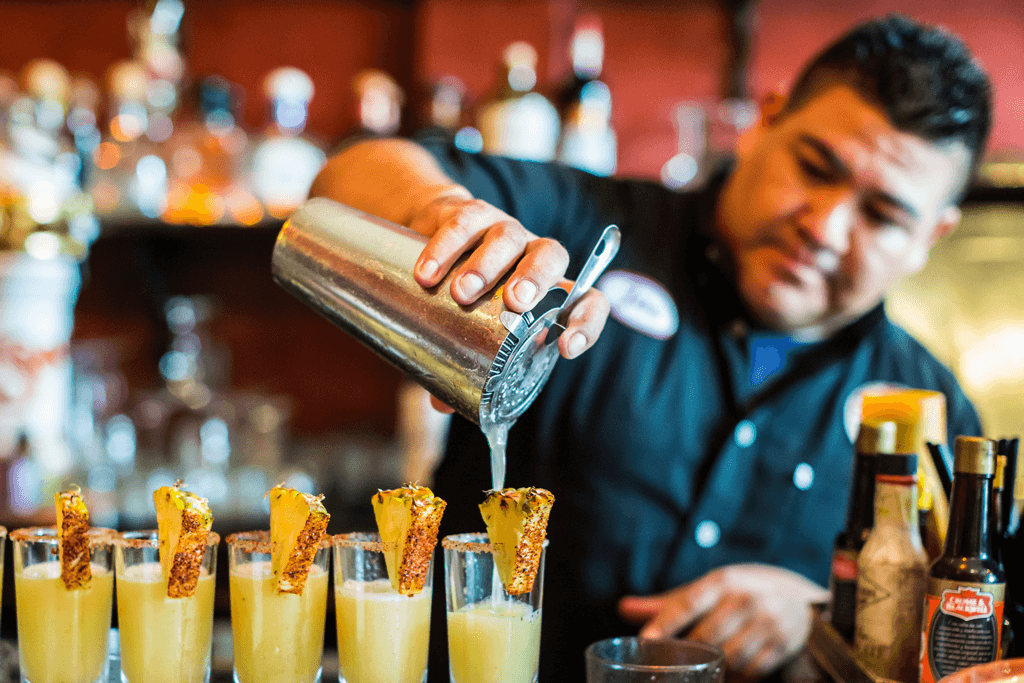 Joe Jacks has a nice open-air terrace for dining upstairs. The seafood at Joe Jacks is so fresh and artfully prepared, it never disappoints. This year, Joe Jacks celebrates their tenth year in Vallarta.
We recommend the red snapper seasoned with Sichuan pepper, fennel seed, cumin, and coriander. Calle Basilio Badillo # 212 Emiliano Zapata, 322 222 2099 Open Daily 322 222 2099 Here is their website
Note: We visit Joe Jacks on our mex-ology tour where we sample their craft cocktails.
D'Cortes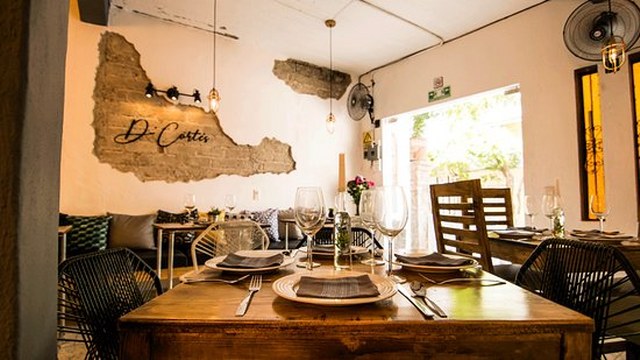 Chef Polo Cortes has created a unique dining experience that everyone is raving about. After twenty years of cooking in gourmet restaurants in France, Germany, Spain, Costa Rica, and Mexico, Chef Cortes, opened his own place here in Puerto Vallarta, in the Caloso neighborhood (just behind Old Town).
The room is warm, artful, and beautifully designed. The menu is ambitious, and the cuisine is fusion-a masterful blending of elements of European Cuisine with the flavors and recipes of Latin America. The food is simply amazing. Chef Polo Cortes has created a culinary sensation!
We recommend the grilled fish filet. Located at Calle Via Lactia #222, Col. Caloso. Open from 4 pm till 11 pm, closed on Mondays. 322 244 1144. Here is their website.
La Fina Cocina de Barrio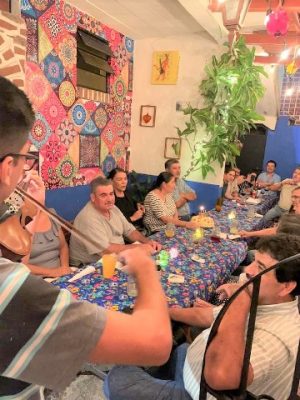 Another culinary gem has opened in the Caloso neighborhood. The venue is a small outdoor patio with just five tables. The menu changes daily and is presented on a chalkboard. It's a family-run restaurant with the chef's delightful mom often serving the meals.
Co-owners and chefs Emiliano and Laura, blend Mexican Cuisine with European and Asian influences. The food dazzles with a complexity and balance of flavors. We recommend the short rib, in a port sauce, with sweet potato puree and corn.
Note: Don't leave without ordering a dessert. Open 7 pm-11 pm Closed on Mondays. Calle Atmosfera #151, Col. Caloso. 322 136 7662
Best Restaurants – Hotel Zone & Versalles
Barrio Bistro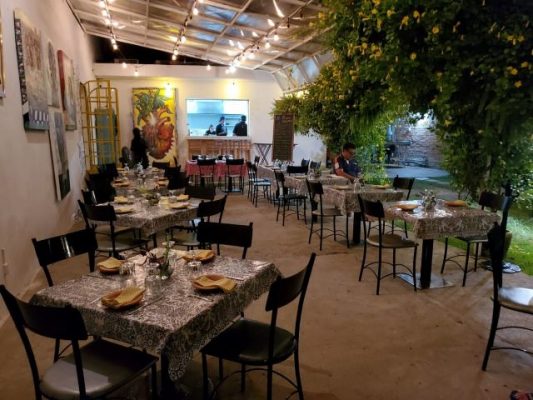 Chef Memo Wulff has created a dining hot spot in the Versailles neighborhood. His creative and imaginative dishes, with fresh regional ingredients, are served in a room full of art, flowers, and soft music.
The garden patio is also an enchanting space to dine. The menu changes. We recommend the fish filet al pastor. Closed on Sundays. Calle España #305, Colonia Versailles, Hotel Zone. 322 306 0530 Here is their website.
We visit the Barrio Bistro on our Discover Versailles Tour.
La Leche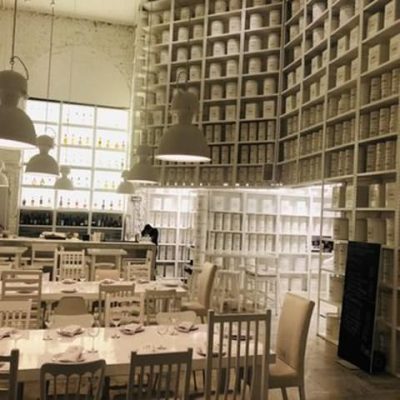 An all-white contemporary spacious room, and a changing menu, that blends French and Mexican flavors. Chef Alfonso Cadena offers imaginative dishes, artfully prepared and presented, and the service is impeccable.
We recommend the mahi-mahi en a bed of risotto. Open daily. Ave. Francisco Medina Ascensio, # km 2.5, Hotel Zone 322 293 0900. Here is their website
Cha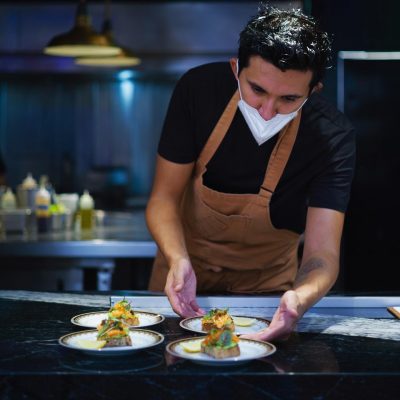 Puerto Vallarta's Versalles (Versailles) neighborhood is fastly becoming the Brooklyn of PV. All the young talented chefs are opening up because more freedom and lower rents. Therefore it is now the hotspot of PV. Among them is Cha Cocina, perfect place for brunch. The chef, Mario Borja, owner/chef uses local products to create inventive delicious dishes with a twist of seasonal ingridents.
We recommend the duck tacos, red velvet pancakes and huilacoche salad. Open Tuesay – Sunday. Hamburgo 153, Versalles, Hotel Zone 322 115 6647. Here is their website
ICU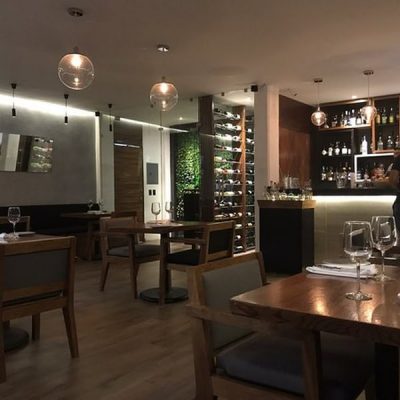 Chefs Josue Jimenez and Mauricio Leal, are award-winning chefs, producing some of the most interesting and creative gourmet dishes in Puerto Vallarta. They had a high-end private catering business in Vallarta for nine years. They took their industrial space and converted it to a restaurant. With just 10 tables, the service is superb, and the food is unforgettable.
Travel and Food Magazine awarded them Best New Restaurant in all of Mexico 2019. We recommend any and all of the seafood dishes. The menu changes daily. Closed Wednesdays and Sundays. Francisco Ascensio Medina # 2550, Hotel Zone. 322 221 2743 Here is their website
Bonito Kitchen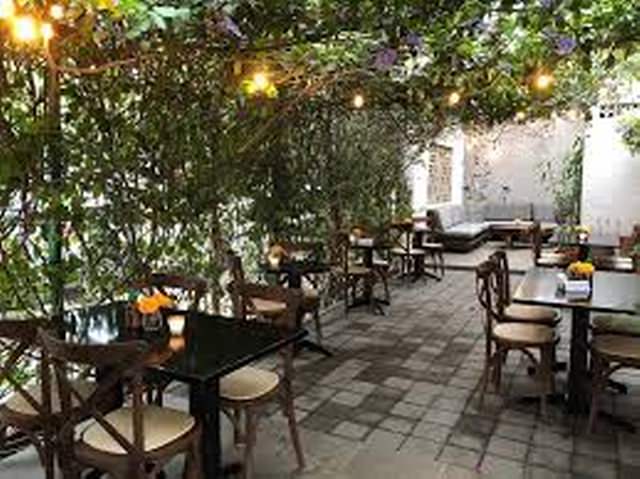 On a casual cozy patio, Chef Francine brings a masterful blending of Asian flavors to the menu. With elements of Japanese, Korean and Vietnamese cuisine, the menu changes daily. Recently just opened a second location in the Romantic Zone by the Rio Cuale.
Vietnamese soup Pho on Thursdays, Ramen on Saturdays. We recommend the Dim Sum, on Sundays. Closed on Mondays. Calle de Los Tules #325, Col. Jardines de las Gaviotas, 322 225 8632 Here is their website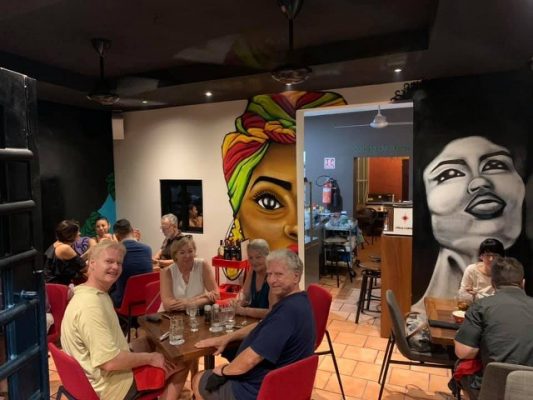 Best Restaurants – Marina Vallarta
Sonora Grill Prime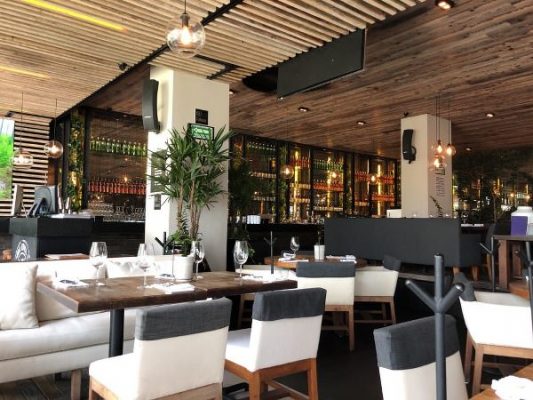 This is the best steak in town. Specialty cuts, cooked to perfection. The room is comfy, the atmosphere is fun and lively with 80's music and good energy. We recommend the porterhouse steak. Open daily. Paseo de Marina #126 , Marina Vallarta. 322 221 3124 Here is their website
Best Restaurants – South Shore
Le Kliff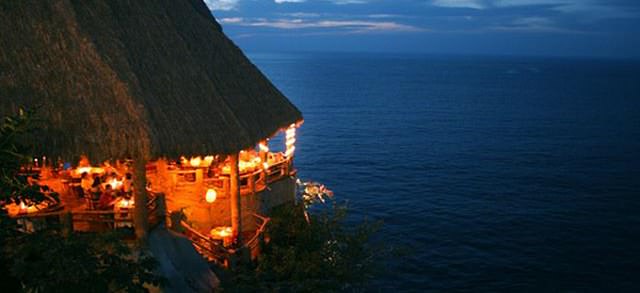 Perched on a high bank cliff, overlooking the Pacific Ocean, Le Kliff offers stunning views of the Bay with award-winning French cuisine. The room is an open-air palapa. The ambiance is elegant.
We recommend the Catch of the Day, with pistachio crust and mango puree (served with smoked mashed potatoes and roasted asparagus). Open daily. 10 miles south of the city, Carretera Barra de Navidad, km 17.5, Boca de Tomatlan, 322 228 0300 Here is their website
Ocean Grill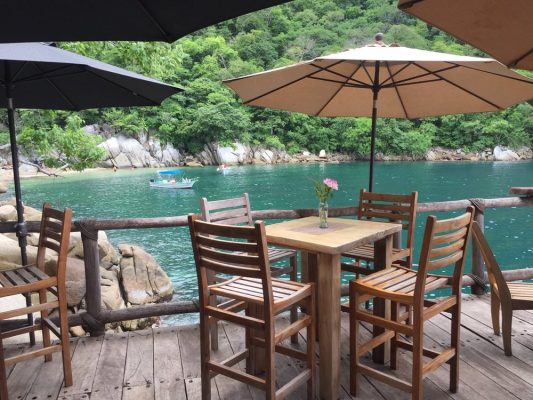 On an isolated bay, south of Boca de Tomatlan, is the small restaurant with tables on a deck overlooking the bay and Playa Colomitos. You must take a boat or hike in to get there. You make reservations by phone and they come, by boat, to the beach in Boca de Tomatlan to bring you to the restaurant.
Not recommended for folks with limited mobility. However, for the fleet-footed, we recommend the shrimp agua chile. The setting is dramatic, the vibe is jungle chic, and just getting out there is an adventure in itself. Open daily for lunch only. 322 111 0157 Here is their website