Join our passionate guides as you discover Puerto Vallarta's hidden gems in our Award-Winning tours one delicious bite at a time since 2011!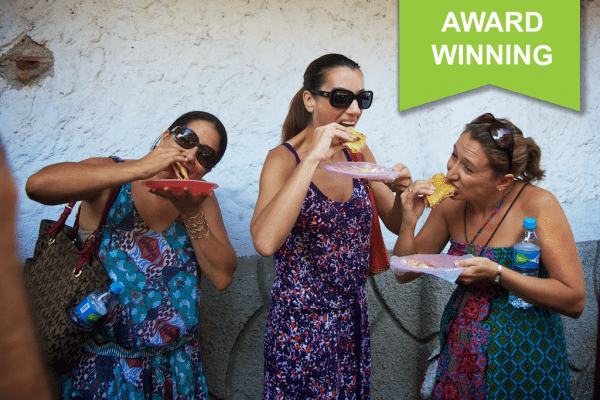 The Original Downtown Tour
Immerse yourself in the culture of Downtown and Old Town and enjoy 8 one-of-a-kind food tastings and iconic regional dishes including tacos, birria, seafood, mole and more! This walking cultural food tour was recently voted #4 food experience in the world by TripAdvisor in 2019 & 2020 and #5 tour in Latin America in 2023!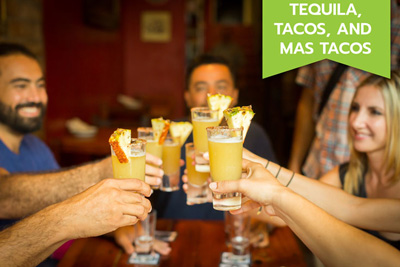 Mex-ology
A tequila, taco and Mexican cocktail tour that will make your trip to Vallarta unforgettable. Spend the afternoon strolling Old Town while savoring 6 delicious handcrafted cocktails & 5 food tastings all while exploring the hidden gems of Zona Romantica. Recently awarded best cocktail tour in Latin America in 2022 by TripAdvisor!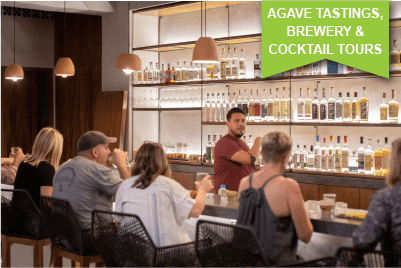 Vallarta Mexology Tours
We've created spirit-forward experiences that highlight Vallarta's best agave spirits, cocktails and beers. Join us for tequila tastings, mezcal tastings, brewery tours and cocktail experiences. All designed to help you discover the unique flavors of Mexico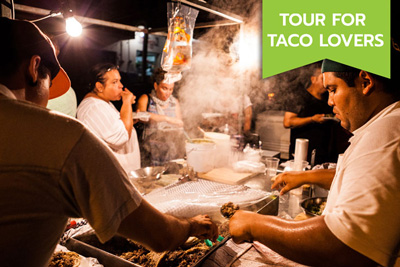 The Street Taco Tour
Watch the streets of Vallarta come alive on this evening taco adventure tour. Come grab the best street tacos with us and enjoy specialty regional dishes as we share Vallarta's vibrant history and culture! The tour consists of 7 delicious food tastings. Racilla tasting and cocktail at El Tasting Room.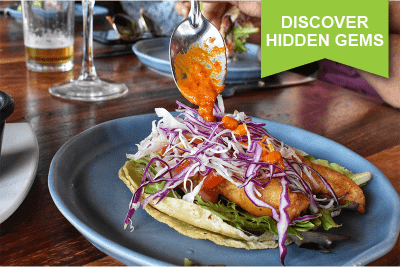 Bucerías Taco Tour
On this 3-hour walking tour, you will taste the best tacos with option for drink pairings Bucerías has to offer. We know that tacos and tequila are on your list of food and drink priorities, but we stack this experience with tasty tacos, regional dishes and option for delicious racilla cocktails, margaritas, local beer and more!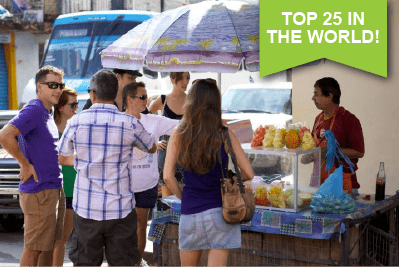 Taste of Pitillal
Explore the local cuisine of Pitillal, a charming authentic Mexican neighborhood in Puerto Vallarta, untouched by tourism. Enjoy recipes that have been passed down through the generations including: carnitas tacos, tamales, atole, local seafood, birria, and fresh churros.
Recently recognized as a top 25 tour in the world by Tripadvisor in 2023!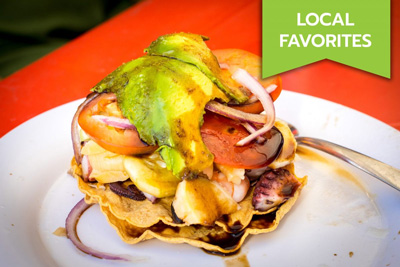 Seafood Lovers
While seafood is part of the menu in all our food tours, this tour is dedicated entirely to fresh-caught seafood prepared with authentic regional flare. Both a culinary and cultural food tour, this tour is going to light up your tastebuds with some of the freshest, most authentic seafood dishes you've ever had.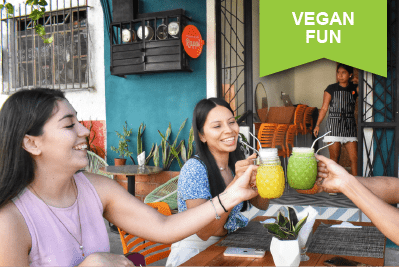 Vegan Vallarta Food Tour
Join us on this 3 1/2 hour culinary adventure to rediscover the roots of Mexican Cuisine and new modern twists. We'll showcase two of the most amazing neighborhoods in Vallarta; 5 de Diciembre and Old Vallarta and you'll walk away knowing the in's and out's of where to go for Vegan food in Puerto Vallarta.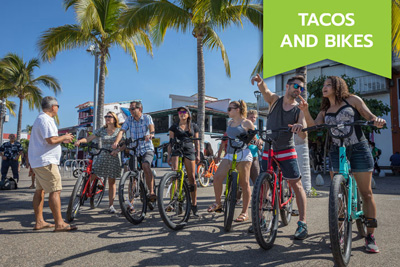 bikes & bites
Behold the beauty of Vallarta on our guided 3-3½ hour bike food tour featuring 8 food tasting locations carefully chosen to highlight the best regional flavors Puerto Vallarta has to offer. Just awarded one of top biking experiences in the world by Tripadvisor for 2021! The perfect experience for the start of your trip to help shape your view of the city.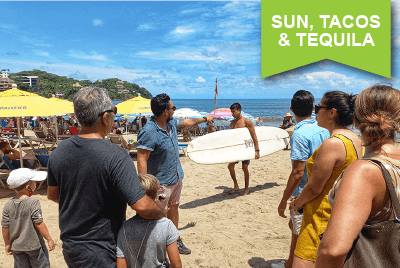 Sayulita Tour
Private Basis only until Oct with minimum of 6
Explore and enjoy this magic surf town! This private tour will take to discover the hidden gems of Sayulita. Besides the 2.5 hour guided tour, you will have a couple of hours to go on your own to shop, go to the beach, surf or just explore. We will pick you up in a Mercedes Sprinter Van and drop you off. Learn about Sayulita and discover new favorite food and drink spots!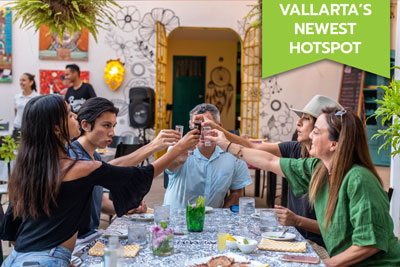 Discover Versalles Food Tour
Explore the newest hotspot neighborhood of gastronomy! Enjoy regional and innovative dishes from some of the best chefs in PV. This hidden gem tour will have 6 tastings including gorditas from the famous Masame , shrimp al pastor taco, tuna tostada, pork belly taco and more!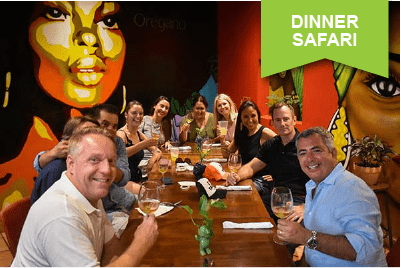 Versalles de Noche Dinner Tour
Enjoy a gastronomic exploration in Versalles. This neighborhood has become one of the hottest culinary neighborhoods in Puerto Vallarta and has so many secret gems to find. Versalles de Noche is a dinner safari, you'll visit some of the hottest restaurants and try their delicious creations.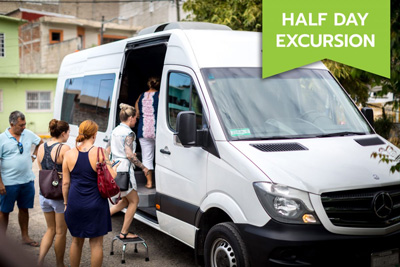 Vallarta by Road
Looking for a fun way to explore our city and go to many neighborhoods?
Touring by van allows us to take you to 5 distinct downtown neighborhoods, and the nearby pueblo of Pitillal. This 4 hour van tour covers more ground than our walking tours and features our favorite restaurants, artisans, and street food vendors.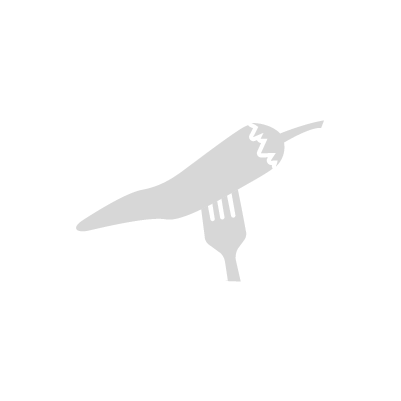 Enjoy unique culinary Mexican culinary delights while supporting our local food artisans!
Explore Puerto Vallarta's and it's culture and charm while discovering it's unique history!
A memorable experience in a small group with our entertaining tour guides.
Support, meet and engage with local Puerto Vallarta food artisans and restaurant owners.
Vallarta Food Tours - #1 tour in Puerto Vallarta!