Experience the Best Vegan Food in Vallarta!
Vegan Tacos And Modern Mexican Twists. Nowadays finding vegan or vegetarian food around Mexico can seem to be a strenuous task, however this didn't used to be the case. Pre-Hispanic cultures primarily relied on a plant-based diet as it was easier to grow crops than to hunt. However, with the arrival of the Spaniards, the way we ate became heavily modified. So, eating vegan in many ways is not modern at all and very much goes dates back to many generations past.
Walk the lovely cultured-filled streets of Vallarta with our foodie experts and explore amazing family owned businesses and flavorful stands while you hear the entertaining stories, myths and history that makes Puerto Vallarta a magical place.
This Vegan Food Tour is a 3 1/2 hour culinary adventure where you'll (re)discover the roots of Mexican Cuisine and new modern twists. We'll showcase two of the most amazing neighborhoods in Vallarta; 5 de Diciembre and Old Vallarta and you'll walk away knowing the in's and out's of where to go for Vegan food in Puerto Vallarta.
This is a 3.5-hour walking excursion with a local foodie as your tour guide.

Eat and drink your way through the fun and vibrant neighborhood of Old Vallarta and 5 de Deciembre

Enjoy refreshing agua fresca and a selection of sweet sorbets

Uncover where the locals really eat, drink and shop in Vallarta

Try the foods that shaped Mexico and learn how history has shaped the food we eat today.

Insider tips on where to go to eat and drink like a local in Puerto Vallarta coming right from knowledgable locals.

Taste exceptional handmade blue and white corn tortillas.

Enjoy mouthwatering vegan cuisine from 7 different tasting locations.

Tasting includes enough food for a satisfying lunch, including 4 different tacos, sorbet, agua fresca and multiple other tastings.
CAPACITY:
10 people
1 tour guide
WEATHER:
Tour takes place rain or shine
WHAT TO WEAR:
Comfortable clothing and shoes
WHO:
Suitable for most ages and fitness levels
TOUR INCLUDES:
7 tastings. expert tour guide, tasting map with insiders recommendations
COST:
$55 adults $44 children under 13
START LOCATION:
Vallarta Food Tours Offices
TRIP ADVISOR:
5 star company with over 5300 reviews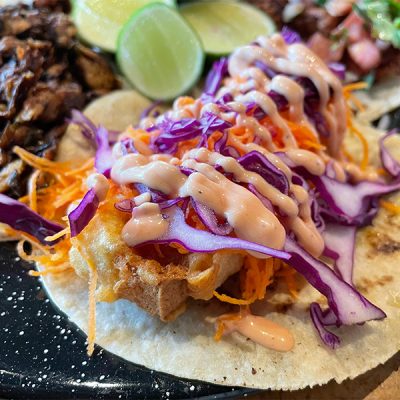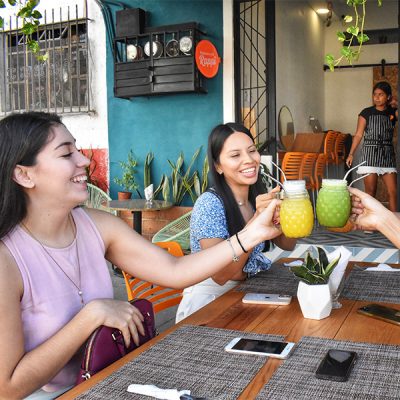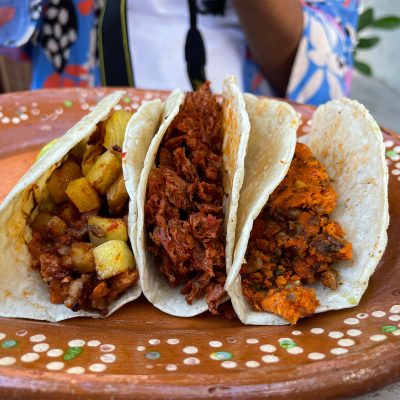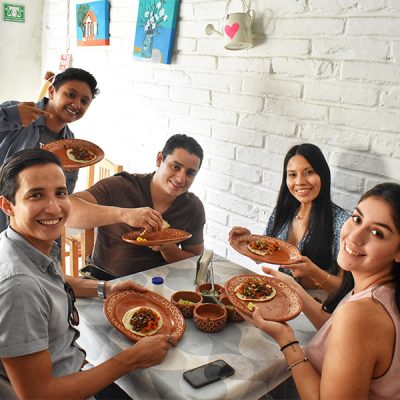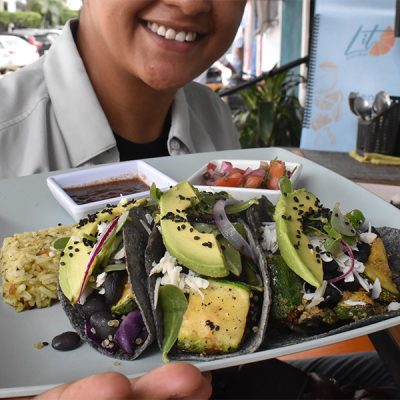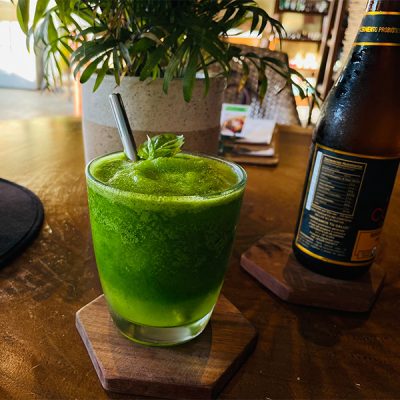 What to expect from this tour?
Bursting With Flavor – We go beyond a basic vegetable taco and will show you other vegan highlights including a masa treat called Mushroom Tetela and a can't-miss vegan dish: Taco Campechano.
A Culinary Tour With A Bit Of History – We share the story behind the food, including the history of each restaurant and regional Mexican dish. We also share some of the highlights of Vallarta's rich culture.
Discover Hidden Gems - Uncover where the locals really eat, drink and shop in Vallarta. We'll show you where to eat in Vallarta!
Eat Vallarta Iconic Dishes - Try iconic dishes, local favorites and regional highlights! And they're all vegan, can you believe it?

Insider Scoop - You'll be an insider and have VIP access to 7 local vendors and get to hear real, entertaining stories of Vallarta rich history and culture!
Become A Local In 3 Hours - Our goal is to give you a taste of local life from a local's perspective! Food tours give you enough authenticity to feel like you've discovered something new, combined with a carefully planned itinerary to ensure the experience is safe and fun
Good Things Come In Small Packages - Enjoy the intimacy of a small group experience and the dedicated attention of a local expert.
Meet Local Food Heroes - Our restaurants are local legends, family-owned and often specialize in only one dish; which means the quality is high and the flavor is even better.
Experience Authentic Mexico. With over 1,000 restaurants to choose from in Vallarta it can be overwhelming to decide where to eat. We introduce you to the local gems serving the best Vegan food Vallarta has to offer.

Handcrafted Experiences. This is the perfect shore excursion for your day at port, a fun way to spend a few hours outside of your all-inclusive and is ideal for anyone looking for a small-group tour that isn't too touristy and showcases the best vegan food in Vallarta!
Foodie Fun. If you love to eat and are looking to taste delicious plant-based recipes then this is the tour for you. Take your tour early in your vacation so that you can return to the spots you enjoyed most.
So Many Street Vendors So Little Time. If you are only in Vallarta for a day, a weekend, or a week you don't want to waste your time at a street food stand that is subpar. We make it easy by taking you to the best street food vendors in Vallarta.



Small Group Tour. We keep our groups small to ensure that everyone has a great time and enjoys an immersive experience. You are sure to make a few foodie friends along the way!
The Best Of Vallarta. Our small group tours introduce you to the hidden gems that make our culinary scene so unique. This goes beyond the popular tourist spots to the local favorites you might not find on your own.
#1 Tour in Vallarta out of 400 tours in TripAdvisor. We are the #1 ranked attraction on Google and TripAdvisor with a 5-star average with 5,000+ reviews and over 12 years of experience.
Memories. Create unique memories that will last a lifetime, our guide is happy to take photos for you.
Tour bookings can be changed to any date, different tour or turned into a gift certificate to use on a future date with no expirations even one hour before the tour! A change of plans is no problem!
Joana was wonderful and very knowledgeable about the buildings, restaurants and family owned food cart all around PV. The food was awesome and so was Joana! We plan to do again with family very soon. -Dana from California
There was a great variety including street tacos, refreshing aguas, more formal mole, casual pibil tasting interspersed with a beautiful glass and tile store as well as tortilla factory, candy and cigar making exhibit and a bit of history of the central church in town. Luckily all was paced with some walking and then some resting in air conditioned comfort. This tour is great for everyone, highly recommended -Cindy from New Zealand
My boyfriend and I attended this food tour led by Shaunie (whose energy was absolutely electrifying) and were very pleased with how much we learned about the food and the town simply from being guided by her.We highly recommend this tour! - Allison from Portland