Wondering what you to do for New Year's Eve in Puerto Vallarta? Here are some fun live music venues for celebrating and ringing in the new year.
Piano Bars
Incanto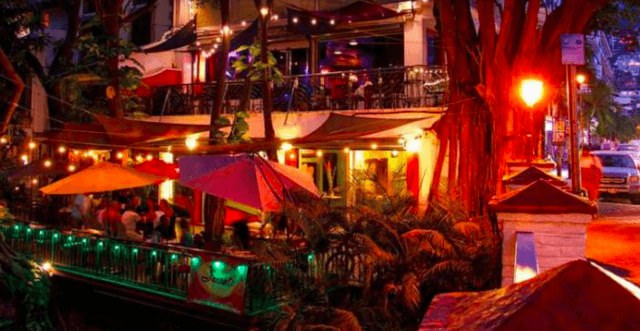 Named for its enchanting setting on the River Cuale, in Old Town, Incanto is celebrating their third year of bringing musical and theater performances to Vallarta. With two stages, a main stage downstairs and the piano bar is upstairs. Both with terraces overlooking the river.
This year's New Years Eve in the piano bar, brings New York City pianist Michael Ferreri, playing all your favorite standards and show tunes. Located on: Insurgentes # 109, Emiliano Zapata, (Old Town) Puerto Vallarta, tel: 322 223 9756
If you haven't been to Incanto, you really must go. The calendar of their shows and performances is here
Garbo's Piano Bar
A small neighborhood gay-friendly bar, with talented musicians, and great craft cocktails. Not just a piano bar, they bring in latin and jazz bands as well. Open every night, 6pm- 2am. Pulpito # 142, Emiliano Zapata (Old Town) Puerto Vallarta. 322 223 5753.
Jazz Bars
Cuates y Cuetes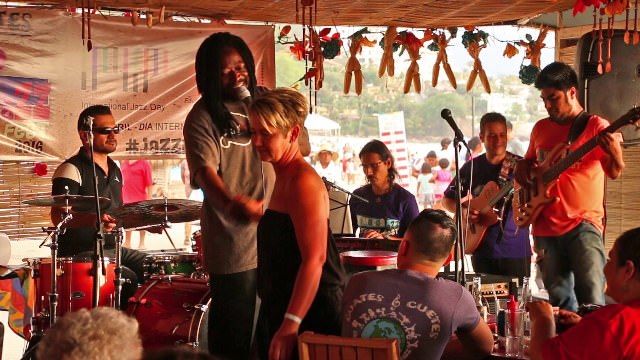 This open air bar sits right on the malecon, on Los Muertos Beach, where the municipal pier is located. A fun casual beach bar. You can hear some great local jazz musicians playing on the small outdoor patio. Usually a small ensemble playing soft jazz and latin rhythms.
Cuates y Cuetes has great cocktails and a front row seat to life on Los Muertos Beach. A fun place to celebrate new year's eve in Vallarta. They have a cool webcam that pans the beach and pier. Check it out here. Located at Francisco Rodriguez #103, Emiliano Zapata (Old Town) Puerto Vallarta.
Rock n Roll – Blues Bars
Roxy Rock House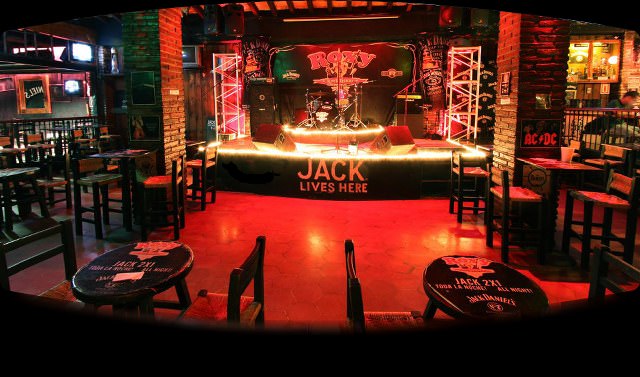 The Roxy is a late hours venue opening every night at 10pm. Some awesome rock bands play here. The club has a nice dance floor, a good vibe, and the Jack Daniels flows like water. (Black Jack is always on promo- 2 for 1) Location; Ignacio Vallarta, #217, Emiliano Zapata, (Old Town) Puerto Vallarta. tel. 322 225 6901 more info
Nacho Daddy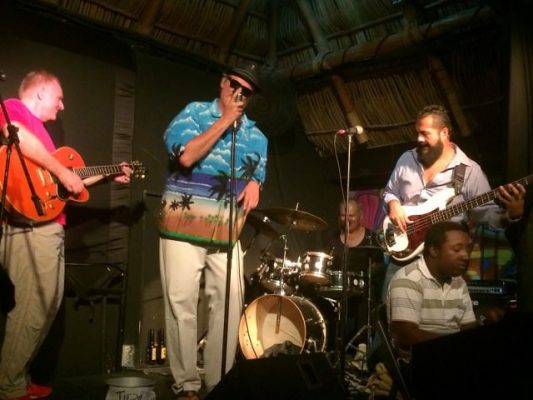 A sweet little blues bar in Old Town. Bar Owner, Shawn, is a talented blues vocalist. The resident band, The Texas Embassy Blues Band, will be playing on New Years Eve in Puerto Vallarta, with Shawn on lead vocals. They are a tight band-a great blues music experience. Music starts at 9 pm. Location: Basilio Badillo #287, Emiliano Zapata (Old Town) 322 688 5566. Check here for more info
Los Bambinos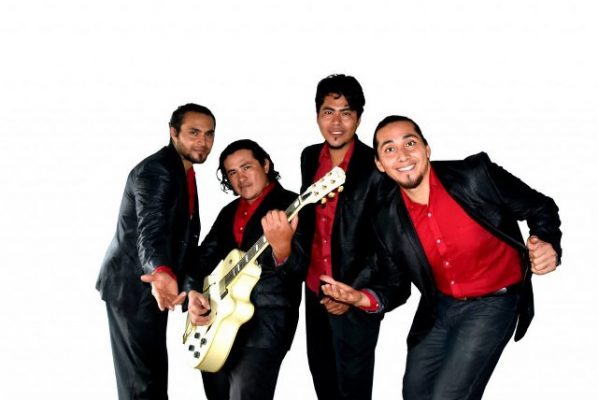 One of the most popular local rock bands in Vallarta, the Bambinos have played in Vallarta for years, and have a huge following. They have opened their own music-dinner show venue in Old Town called Bambinos Trattoria.
They will perform on New Years Eve in Puerto Vallarta with the first set of songs being international music. In their second set, they will perform a tribute to Freddy Mercury and Queen. Location Aguacate #314, Emiliano Zapata (Old Town) Puerto Vallarta. 322 222 4357

Captain Don's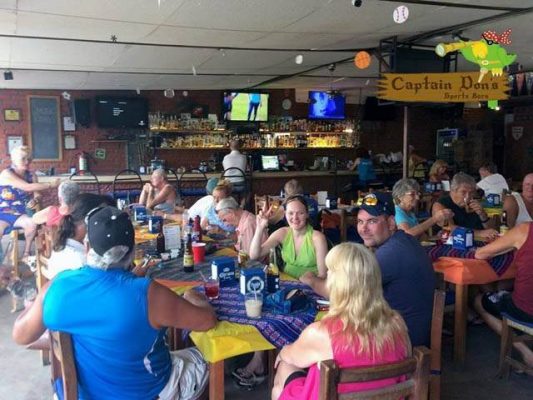 Captain Don's is a casual sports bar by day, and by night, it's a no frills rock and roll venue. With a cement floor, basic wooden tables, and a super friendly staff, it's a great bar to hang out, meet and greet, and dance to live rock and roll. A fun relaxed vibe, just a block up from the Camerones Beach in El Centro. On New Years Eve, rock and roll band, Da Crew, takes the stage at 10 pm. The party goes until 4 am. Location: Honduras #126, El Centro, Puerto Vallarta. 322 137 2071.
Salsa Dancing !
The Bodeguita del Medio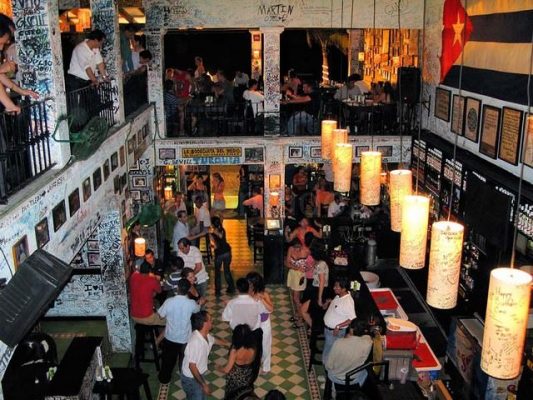 The Bodeguita del Medio is an open air, Cuban bar, located on the malecon in el Centro. Sip smooth Cuban rum mojitos, and enjoy the warm ocean breezes from the upstairs veranda.
The Cuban band and live music starts up around 10 pm. The salsa music is heavenly and so are the mojitos! Location: Malecon 858. El Centro, Puerto Vallarta. 322 223 1585. Night Clubs on the Malecon
Disco-Night Clubs
Puerto Vallarta has a row of trendy dance clubs along the malecon all clustered together in a row. Huge ceilings, open air, big drinks, big sound systems, with views of the bay and malecon. A young crowd, dressy, and chic.
The Vaquita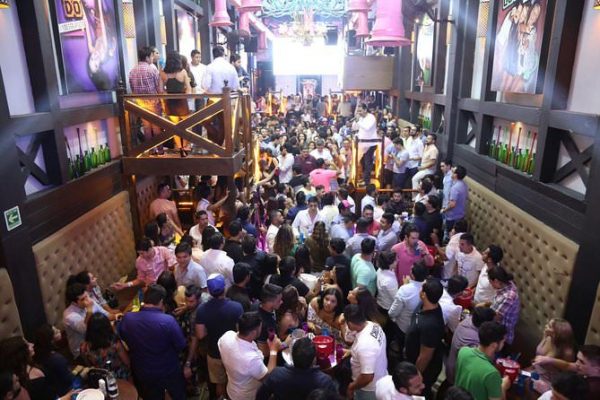 Paseo Diaz Ordaz # 610, el Centro, Puerto Vallarta. more info
The Zoo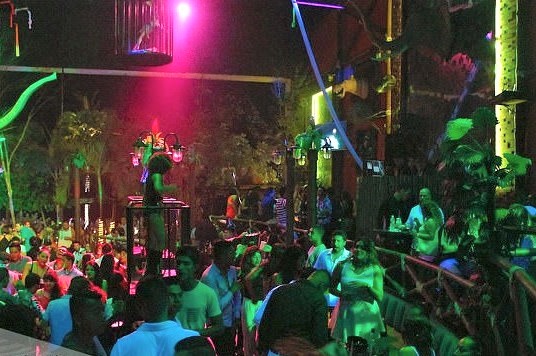 Paseo Diaz Ordaz # 630, El Centro, Puerto Vallarta. more info
Mandela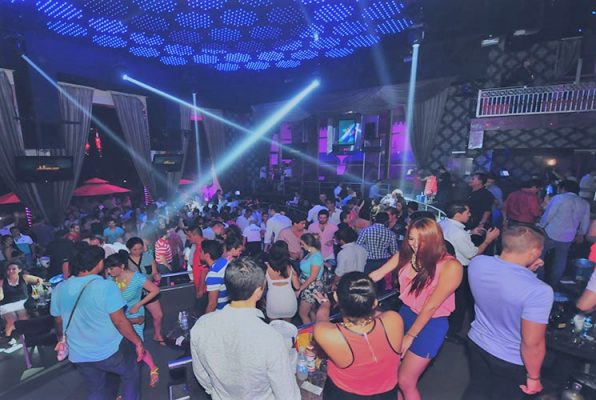 Paseo Diaz Ordaz #633, el Centro, Puerto Vallarta
The Fireworks Show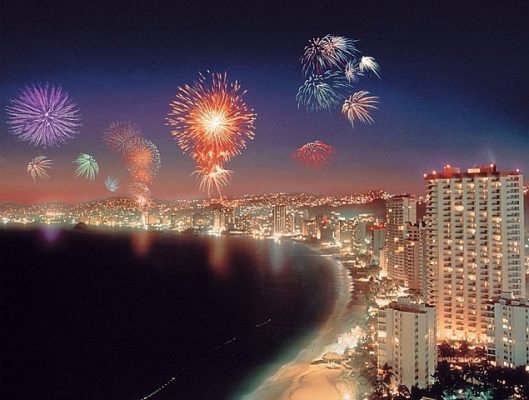 Puerto Vallarta's New Year's Eve fireworks show is an impressive event. It seems like the whole city comes into town to celebrate and Vallarta becomes one big street party. Folks head to the malecon and beach for the big fireworks show at midnight.
The Marina, Nuevo Vallarta, and Bucerias also set off fireworks. When the clock strikes midnight, the whole coastline along the Bay of Banderas lights up with fireworks.
Soaring rockets bursting forms of light and color, and plenty of thunderous LOUD booms! It's a spectacular show. Most locations on the Bay will have a great view of the show.
Have a Wonderful New Year's Eve in Puerto Vallarta!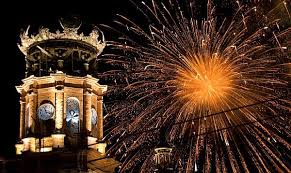 We wish you all a Happy New Year!
Until next time, we'll see you out there on the taco tour!