Are you traveling to Puerto Vallarta in December? Here's our locals' guide to some fun things to do in Puerto Vallarta this month.
The Festivals of the Virgin of Guadalupe Dec. 1-12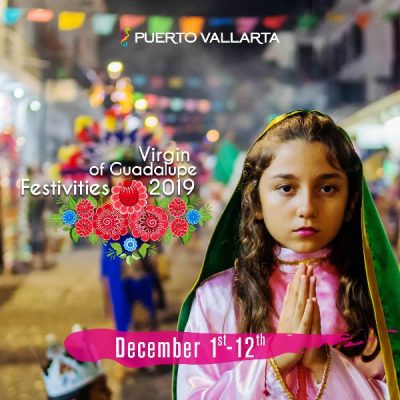 The Virgin of Guadalupe is the patron saint of all Mexicans. Our main church in Puerto Vallarta is dedicated to her. Every year, from December 1st to December 12th, there are pilgrimages to our church to honor the Virgin. People come from all over, walking to the church. Some people walk for days to arrive. The main Basilica in Mexico City receives millions of pilgrims, some of whom walk for weeks.
Here in Vallarta, the church receives thousands. The pilgrimage and parade route winds through the city every night. An image of the Virgin is carried along the route and the people follow her while carrying candles, flowers, and other offerings.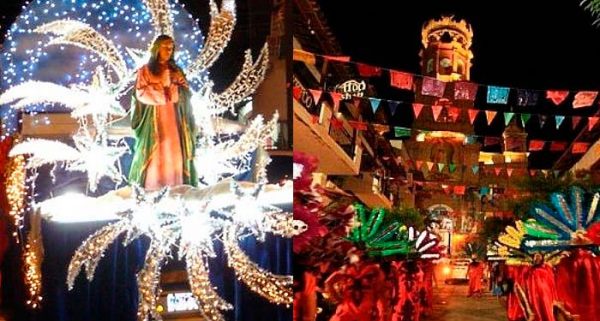 There are Mariachis playing, drums and trumpets, and Azteca dancers, in feathered headdress, and children dress in traditional costumes. The parade ends at the church, where they faithful enter to place their offerings at the foot of the altar.
If you are lucky enough to be here in early December, wander down to the church, on the main square, at around 7 p.m. and you will see the procession of pilgrims, with everyone arriving, carrying their offerings and singing. It's an inspiration to see the faith of the Mexican people and the beautiful pageantry of their religious pilgrimages.
Nutcracker Ballet – December 6, 2019
Ballet at the Beach? Indeed! Vallarta is famous for its beaches but Vallarta is also blessed with a rich cultural scene of live theater and music !! Our new Theater Vallarta, in downtown, hosts premiere plays, musicals, and dance companies, who are touring the Republic of Mexico. Most of the productions are in Spanish.
If you are wanting to take in ballet this weekend, The Ballet Company of Jalisco, is presenting one show of the Nutcracker on December 6th, at 8.pm. Tickets can be reserved online with a credit card, or you can pay for them at any OXXO store, cost of the tickets range 440 pesos, 660 pesos, 880 pesos. It's a small theater, so every seat in the house will afford a great view of the dancers. The theater is located downtown, on Calle Uruguay 184, Colonia 5 de Diciembre, Puerto Vallarta, Jalisco. Tickets can be purchased online here
Take a Whale Watch Tour ! December 15 – April 15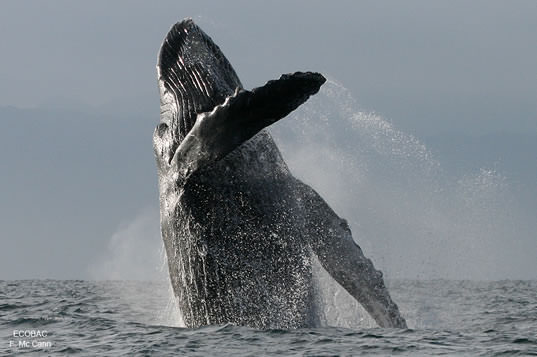 December is when the Humpback Whales return to the Bay! The Whales will now stay in the Bay of Banderas until early April. They have their babies here, and then when the baby whales are big enough, they return to the waters of British Columbia and Alaska for the summer and fall. The whale watching tour, here in the Bay of Banderas, is one of the most popular tours in Vallarta. Its magical to see these beautiful and brilliant creatures playing and feeding in the bay. Make a reservation for the tour here.
Vallarta Gay Mens Choir- Christmas Show Dec. 20, 2019
The Vallarta Gay Men's Choir is presenting their Christmas concert at the Vallarta Theater, on Friday Night, December 20, at 8 p.m. The songs will include Christmas classics, along with featuring guest artists including: Amy Armstrong, Enrique de Allende, Joan Houston, Kami Desilets, Lady Zen, Mary Porter, Daniela Treviño, and instrumentalists from Instituto de Artes Musicales de Puerto Vallarta.
The theater is located downtown, on Calle Uruguay 184, Colonia 5 de Diciembre, Puerto Vallarta, Jalisco. Tickets can be purchased online. More info
Do the Shuffle! December – April
On alternating Friday nights, from 6 pm to 10 pm, in Old Town, the art galleries, shop owners, boutiques and cafes, sponsor a street party along Calle Basilio Badillo.
Now in its tenth year, the shuffle is a fun way to wander around the shops and galleries. The idea is to have fun, and take in the art, jewelry, clothing, music, food, and drink. If you have some extra shopping to do for Christmas this is a great way to find unique gift items. Some of the best gift shops and art galleries in Old Town participate.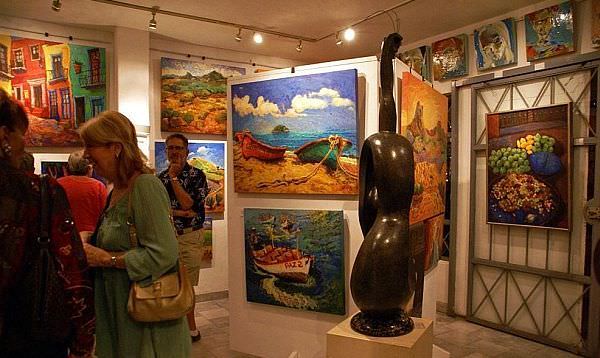 Gallery Dante is a must see on the shuffle. If you need some ideas for Christmas gifts, check out our article on food gifts from Mexico.
Hike to Quimixto Falls!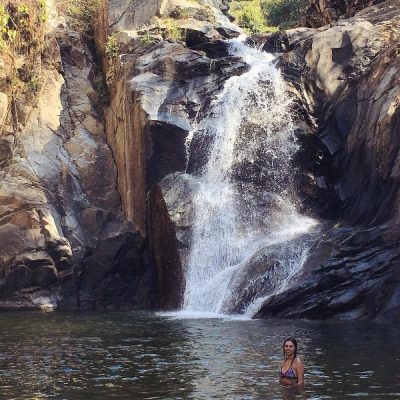 If you want to get away from it all and find a quiet beach, with a jungle trail, that leads to a gorgeous lake and waterfall, Quimixto is the answer. Quimixto is a little pueblo on the south shore of the Bay of Banderas. There are no roads to Quimixto, you must take a boat (a water taxi) to get out there.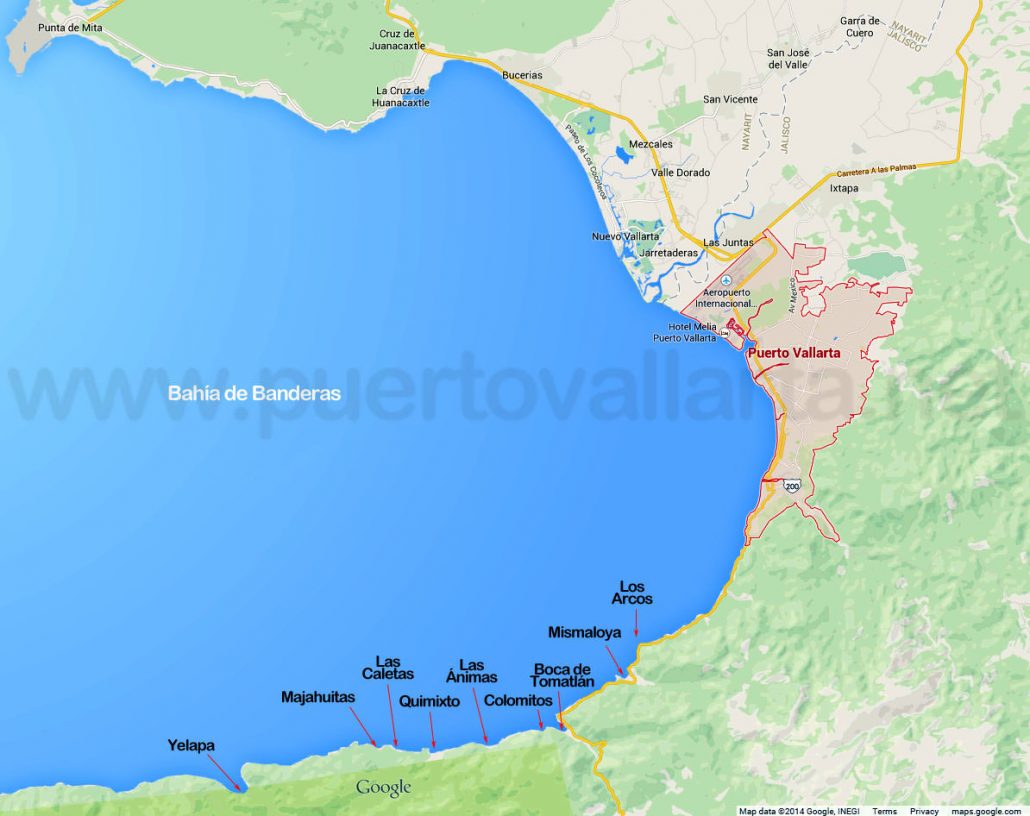 Water taxis leave from the main pier on Los Muerto Beach, (45 minute boat ride) or you can take the water taxi from Boca de Tomatlan as well. Boca is a nice little beach town 9 miles south of Puerto Vallarta on highway 200. You can take an orange and white bus from old town for just 10 pesos to get out to Boca. (catch it at the corner of Basilio Badillo and Constitution)
When you get to Boca, the locals guys on the beach will help you connect with the next boat going out to Quimixto. The boats go every hour. There are restaurants along the beach in Boca, so you can sit at a table, with a cold drink and your toes in the sand, while you wait for your water taxi to arrive.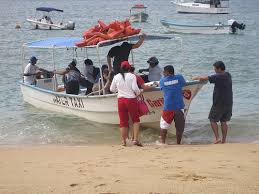 The water taxi from Boca to Quimixto costs about 60 pesos per person each way. A beautiful boat ride along the rugged coastline, and after about 25 minutes you arrive at the dock for Quimixto.
Quimixto, is a small little village tucked in the jungle. The Chacala Indians live there, and rent horses to the tourists to ride up to the waterfall. The hike is not very long or arduous so I don't usually rent a horse. But I love seeing all the horses out there, some of them just wandering and grazing alongside the river.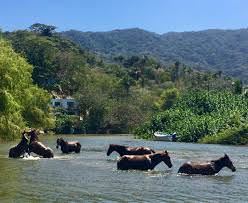 After just thirty minutes of hiking, a gentle uphill slope, on a well rutted trail, you will find a beautiful small lake at the top of the trail and a big waterfall above it. There is a tiny cafe at the waterfall with a couple tables where they sell cold beer and lemonade. The cafe has wild orchids and vanilla plants all around.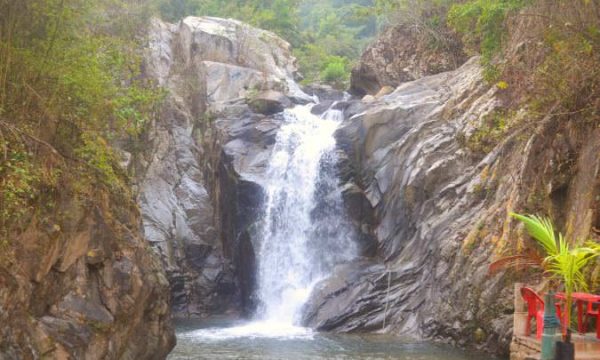 The water at the base of the falls is ice cold! The lake, just below, has warmer water for swimming. If you go early, you'll have the whole place to yourself.
At the end of your hike, you return to the beach. A quiet beach with no vendors and few tourists. Just sand, sky, and sea and a great afternoon wave break for body surfing.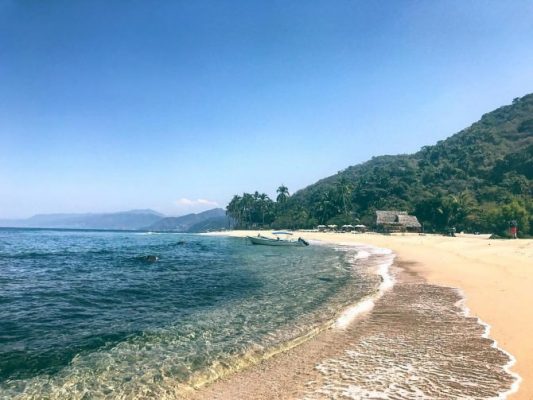 There is one restaurant near the pier, for food and drink. Last boat back to Vallarta leaves around 4:30 pm. Now that's an adventure!
If you need more ideas for fun things to do in Puerto Vallarta, check here .
And what about a culinary adventure? Check out our food tours here.
We hope you enjoy your stay in Puerto Vallarta.
Happy Holidays !!
Until next time, we'll see you out there on tour!