Here's our locals' guide to some fun things to do in Puerto Vallarta in January 2020.
Charro Championships-January 28th-Feb.2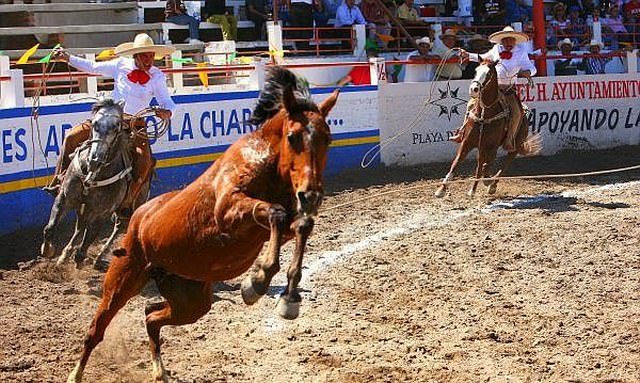 Mark your Calendars ! The International Charro Championships return for their 9th annual competition this year. The four day event is traditionally held in the last weekend in January.
Vallarta welcomes teams from all over Mexico and the United States to compete in nine different events of rodeo and horsemanship. Charro originated in the Central and Northern regions of Mexico and is considered the national sport of Mexico.
A charro is a skilled horseman, often in stylish dress, and some charro horses are trained to perform intricate steps. The championships include events and competition for women riders as well. The arena, sits on 36 acres out in the farm lands, just 8 miles east of the city. It's a beautiful setting and it's easy to get out there by cab or Uber. Finals are on Sunday, February 2nd.

Mariachi Music – Folkloric Dance Performance January 28th 8:30 pm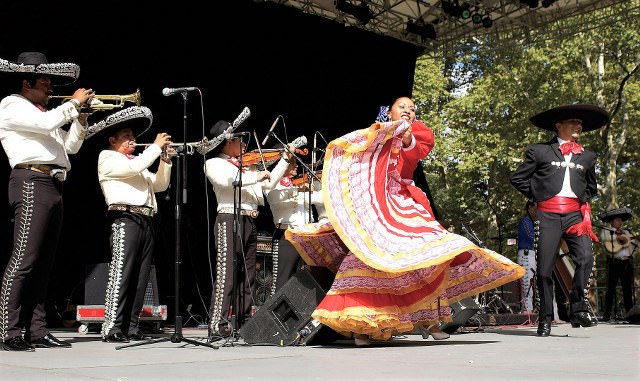 The Mariachi Band International Real de Mexico will perform at 8:30 pm at the Los Arcos en the Malecon (In front of the Church of Guadalupe and Main Plaza downtown). The event is free.
Mariachi music comes from the State of Jalisco, and if you have a chance to catch a live performance of Mariachi music, do take it in. It's romantic music, combining voice, trumpets, and strings (guitars, guitarons, vihuelas. violins, bass, and harp)
The Xiutla Folkloric Dancers will also perform. The women dancers' costumes are elaborate gorgeous floral dresses, swirls of color on stage. A beautiful dance performance. So wander down to the Malecon for the free performance. Note: The folkloric dancers perform on Friday nights, in Cardenas Park, on the malecon, in Old Town, at 6:30. That performance is also free.
Take the Free Sculpture Tour on the Malecon- Tuesdays 9:30 am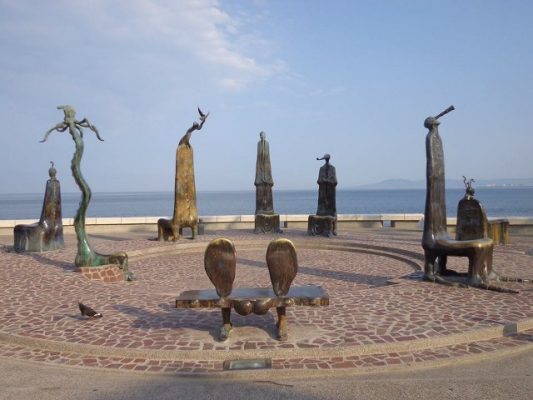 Vallarta's malecon has an impressive collection of bronze sculptures, installed all along the sea walk. As you walk the malecon, you will see them. You can interact with some, climb on some, and sit on some-strange footed chair-like creatures. If you take the free sculpture tour, you will learn about the artists who sculpted them and the stories behind each sculpture.
On Tuesdays, art gallery owner, Gary Thompson, leads the free walking tour of the sculptures. The tour begins promptly at 9:30 am at the Millennial Sculpture, on the malecon, next to the Hotel Rosita.
Take the Free Walking City Tour – Tues, Weds, Saturdays, 9:00 am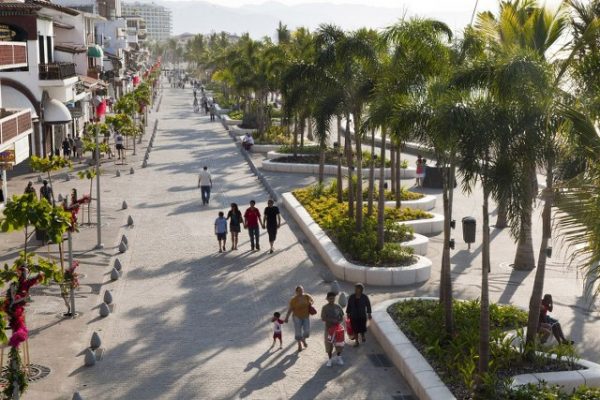 Sponsored by the Tourism Office, this 2 hour free walking tour is led by a certified guide, and includes Vallarta's architecture, culture, history, famous people, and more. Wear comfortable shoes and bring your camera! The tour meets at the tourism office in the Old City Hall, on the main plaza in front of the Church. For more info call 322 222 0923
Take a Cooking Class!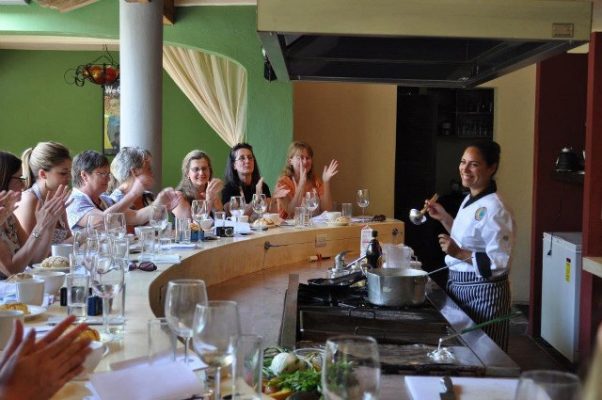 There are many fun and informative cooking classes you can take in Puerto Vallarta. The class will typically begin with a visit to the local market, where fresh ingredients are gathered for the recipes you will prepare. Classes range from 3 to 5 hours. Here are six of the best cooking classes we recommend.

Cookin Vallarta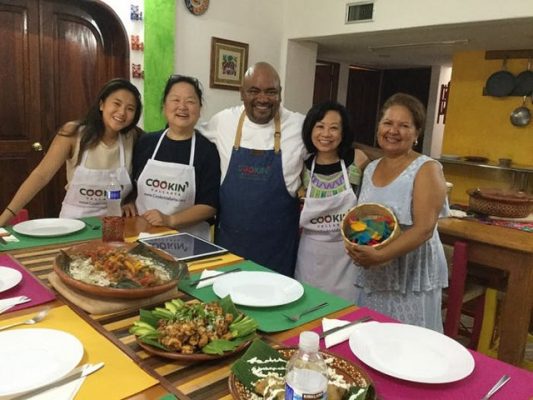 Chef Enrique and Eri are perfect hosts! Traditional Mexican recipes, and their classes are fun and kid friendly! More info
Miriam's Mexican Kitchen
Chef Miriam Flores offers a three hour class, downtown,  where you learn how to prepare traditional dishes for a four course meal. You also learn to make tropical cocktails with locally sourced fruits and distilled agaves. Miriam is a professionally trained chef and a gifted teacher.  More info
Rosies Cooking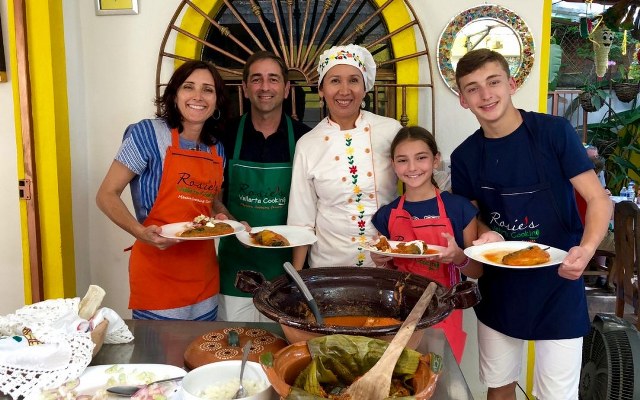 Everybody loves taking Rosies cooking classes and meeting her beautiful family. Rosie teaches you the traditional recipes she learned from her grandmother. She teaches, in her home, not far from the cruise ship port. Its an authentic Mexican experience and the food is amazing!! More info
El Arrayan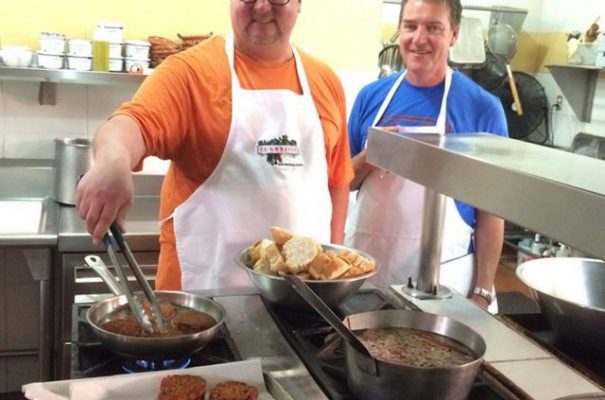 Classes held at the restaurant, in downtown, just up from the malecon. On Mondays, Thursdays, and Saturdays, Chefs Claudia and Carmen teach the traditional recipes, mole, tamales, chile relleno in walnut sauce and more.  El Arrayan has a reputation for being the best of authentic Mexican Cuisine in Puerto Vallarta. more info
Gaby's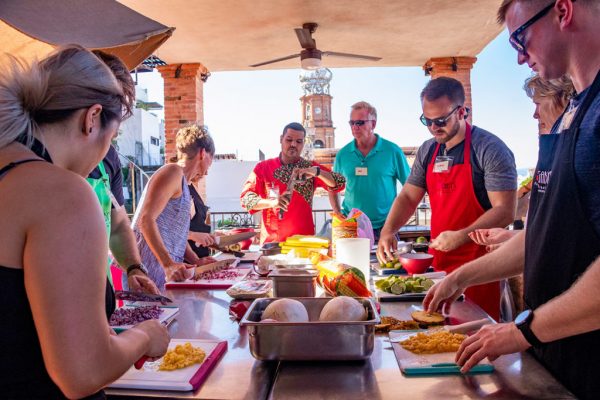 Classes are held on the shady garden patio at Gaby's Restaurant in el Centro, just up from the malecon. Chef Julio Castillon teaches you the traditional recipes, including their famous mole. Mondays and Fridays. Up to 8 people. A great value.
Gaby, her Mom, and Grandmother are often there on site. They converted their home into a restaurant, thirty one years ago. Three generations later, they are still serving gourmet Mexican Cuisine. To make a reservation for a cooking class, call Gaby's at 322 222 0480  Here is their website
note: We sample Gaby's mole on our Original Downtown Tour. Come join us on tour ! More info
Traveling Spoon- (for a private class)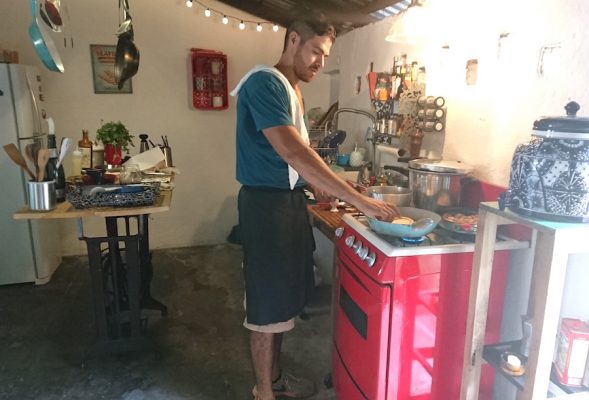 Chef Manuel is a delight, and his English is perfect. He puts an international twist on the traditional recipes. Book a private class with Chef Manuel here
Note: When Chef Manuel is not in the kitchen, he guides our Sea Food Lovers Tour.
Go Up River to El Rio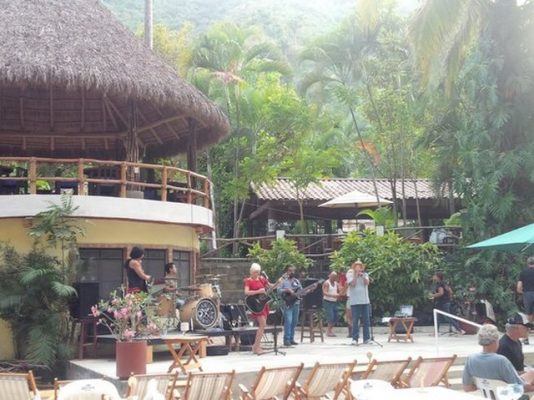 El Rio is a cool place to know about. They are a live music venue and a slow cooked barbecue ribs place. They are on the Cuale River in the neighborhood of Paso Ancho. The cab ride from Old Town, following the Cuale River up to Paso Ancho, is about seven minutes, and around 80 pesos and paved road all the way. It's easy to get there.
The Rio has a fabulous jungle garden setting, right on the river's edge, casual, palapa bar, with gardens all around. They have live music every afternoon starting at 4 pm and a big smooth dance floor for happy feet. The beers are cold, the music is live and the pork ribs fall off the bone.
Meet Grill Master Hollis,  as he takes you on a video tour of his smoker and explains how he prepares the ribs at el Rio. When it comes to ribs, Hollis is the man. El Rio is a hidden little gem-kid friendly. Open from 11:30 am till 7 pm. Closed on Mondays. Calle Felipe Angeles # 245, Paso Ancho. 322.222.2510 Here is their website
Take in Cabaret or Live Theater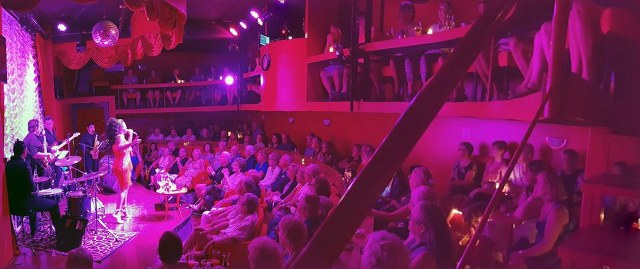 We have a vibrant theater scene here in Puerto Vallarta. Here are three venues in Old Town you can check out.
Act II– In Old Town, with Three Stages of live performances.  Mama Mia, Broadway Review Musical, Motown, Comedy, Drag Queen Shows, and live musical performances in all genres. Basilio Badillo # 330, Col. Emiliano Zapata, (Old Town) 322 222 1512 Here is their line-up for January.
The Palm– Cabaret Bar in Old Town. Olas Altas # 508, Emiliano Zapata. 322 222 0200 A full line-up for January. Live musical performances from Broadway to Boleros, stand-up comedy, drag queens, and more. Here is their line-up for January.
Incanto On the river, with two stages, in Old Town. Calle Insurgentes, #109, Emiliano Zapata 322 223 9756 Incanto brings an eclectic blend of music and theater to their stage. Here is their line-up for January.
Take in Live Music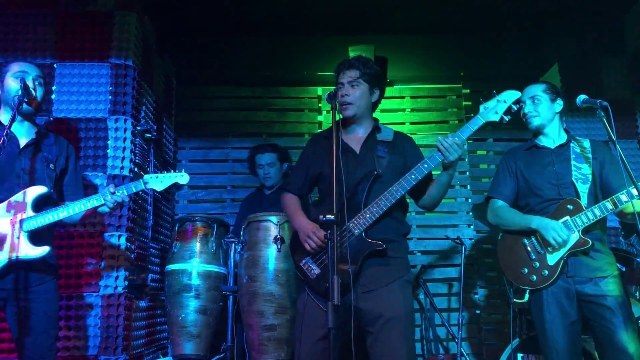 If you are wondering where to go for live music in town, check out our previous new years post where we highlight Vallarta's best live music venues and dance clubs.
Take a Taco Tour !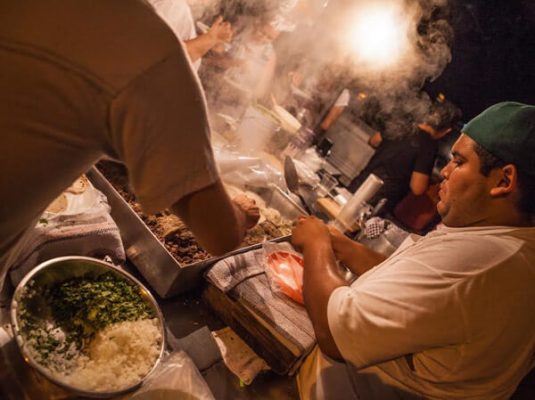 One of our favorite things to do in Puerto Vallarta! We love to show you all the locals' spots for the best Mexican Food in Puerto Vallarta! Join us on one of our food tours, and become a local in three hours!
We hope you enjoy your stay in Puerto Vallarta. We hope the New Year brings peace and prosperity to you, and your family, and to everyone out there, all over this world!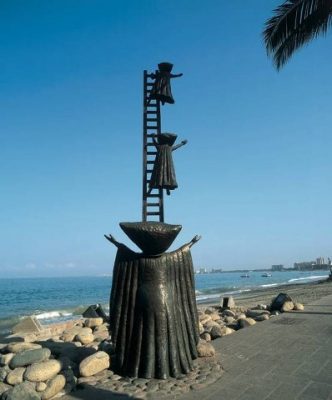 Until next time, we'll see you out there on tour!