Are you planning a trip to Puerto Vallarta and wondering when is the best time to visit?  We offer you some local insights on the four seasons and the best weather for visiting Puerto Vallarta.
Vallarta's Best Weather- November through April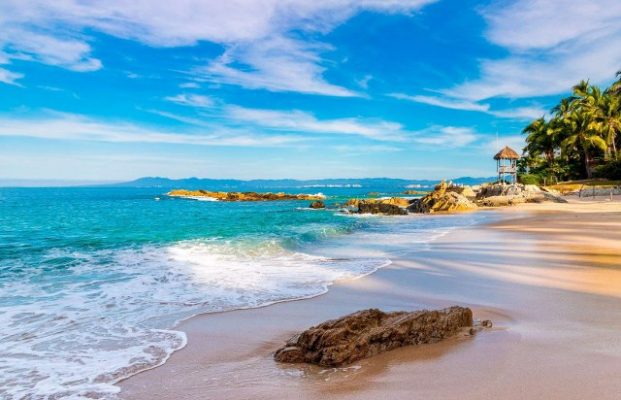 Vallarta enjoys perfect weather in the winter and early spring months. Consistently sunny and clear skies are the norm during this season. Some scattered high clouds can drift in from the Pacific Ocean, usually in the afternoons, offering a welcome relief from the intense Mexican sun.
Air Temperatures
The average high temperature is 81° Fahrenheit  (27°Celsius). Night time temperatures cool down to an average low of 64° Fahrenheit (17°C), making for a cool and comfortable sleep, under a lightweight blanket.
Here is a chart showing Puerto Vallarta's average temperatures by the month.
| | | | | | |
| --- | --- | --- | --- | --- | --- |
| Month | Average High Temperature | Average Low Temperature | Average | Humidity | Wind Speed |
| January | 80°F (26°C) | 62°F (16°C) | 71°F (21°C) | 90% / 67% | 9 mph. |
| February | 80°F (26°C) | 62°F (16°C) | 71°F (21°C) | 90% / 65% | 10 mph |
| March | 81°F (27°C) | 63°F (17°C) | 72°F (22°C) | 88% / 65% | 10 mph |
| April | 82°F (27°C) | 65°F (18°C) | 74°F (23°C) | 87% / 67% | 11 mph |
| May | 85°F (29°C) | 70°F (21°C) | 77°F (25°C) | 87% / 68% | 11 mph |
| June | 88°F (31°C) | 76°F (24°C) | 82°F (27°C) | 88% / 69% | 10 mph |
| July | 89°F (31°C) | 76°F (24°C) | 83°F (28°C) | 92% / 69% | 9 mph |
| August | 90°F (32°C) | 76°F (24°C) | 83°F (28°C) | 92% / 70% | 9 mph |
| September | 90°F (32°C) | 76°F (24°C) | 83°F (28°C) | 93% / 70% | 9 mph |
| October | 89°F (31°C) | 74°F (23°C) | 82°F (27°C) | 91% / 68% | 9 mph |
| November | 85°F (29°C) | 68°F (20°C) | 77°F (25°F) | 89% / 67% | 9 mph |
| December | 81°F (27°C) | 65°F (18°C) | 73°F (22°C) | 90% / 68% | 9 mph |
Rainfall
There is very little rainfall in the winter months in Puerto Vallarta. Maybe a day or two in January it will rain, but the rest of the winter and spring season is quite dry. The rains don't actually arrive until the third week in June. Here's a chart showing monthly days of rain in Puerto Vallarta.

Vallarta's sunny skies and warm temperatures, with little or no rain, make for predictably perfect weather.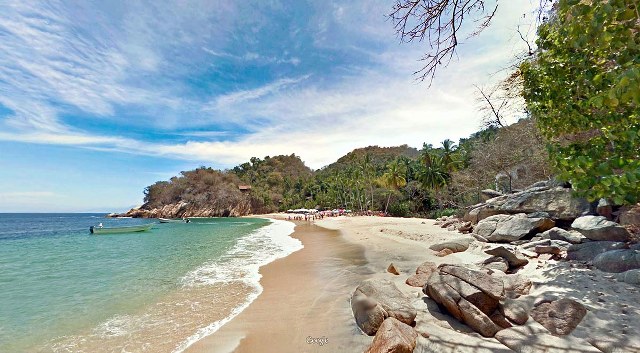 Water Temperatures
The water temperatures in the bay average around 75° Fahrenheit during winter season (24°C). In summer, the bay warms up to an average temperature of 84°F (29°C).  
For diving, the best water temperatures and visibility is during the summer. Here are two simple charts on water temperatures and visibility for all you swimmers, snorkelers, and divers out there.
Water Temperatures in the Bay of Banderas
Jan-May June-Dec
77-79°F 82-84°F
Visibility in the Bay of Banderas
Jan-May June-Dec. 
25-45 ft 30-100 ft
High Season For Tourism
This perfect winter weather corresponds with the high season for tourism here in Puerto Vallarta. Snow is flying in the northern latitudes and everyone wants to escape the bitter cold of winter. Accordingly, the hotel rates are highest at this time of year.
Puerto Vallarta has many hotels and resorts, so this keeps the rates competitive. Even a modest budget can afford lodgings in Vallarta in the high season.
For those of you who want to see the Humpback Whales, you must come in high season. The whales migrate every year to the Bay of Banderas, and reside here in the Bay from December through March. The whale watching tours are some of the most popular tours in Puerto Vallarta. For more info on the best tours in Puerto Vallarta, click here.
Easter Holidays
Mexicans have a longstanding tradition, during Easter Holiday, to visit the beaches of Mexico. Every family inland, who can afford to visit, travels to the coast. Mexico has a population of 129 million people and most of them head for the beaches for Easter Vacation!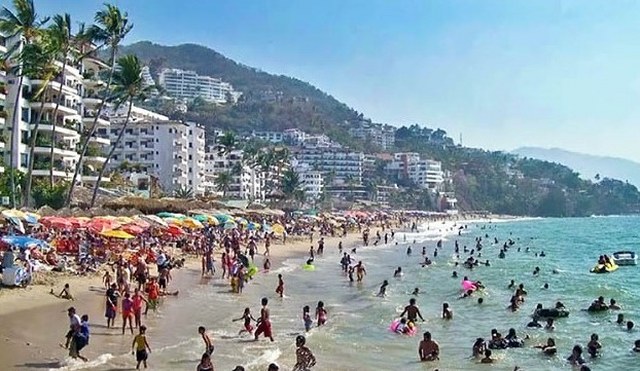 The week before and after Easter Sunday is the busiest time on the beaches of Mexico. Between the national tourists and the spring breakers from the North, the beaches of Mexico, during Easter Holiday, get very crowded. 
The Restaurants and Bars are also very busy. If you want to jump in and rub elbows, it's great fun. Otherwise, consider visiting Puerto Vallarta during a quieter time, i.e., sometime other than the Easter Holiday.
April thru June- Empty Beaches-Lower Prices
This shoulder season-after Easter-brings warmer temperatures to the Bay of Banderas and still little or no rain. Hotel rates drop and the beaches empty out. It's an ideal time to visit Puerto Vallarta. Deals can be had on hotel rooms. It's quieter, slower paced, and no crowds to contend with. 
Mornings can be overcast, keeping it reasonably cool, but then in early afternoons, the sun breaks out, and temperatures climb up into the upper 80s (30°C)  Dark clouds can form in the late afternoons, and threaten rain.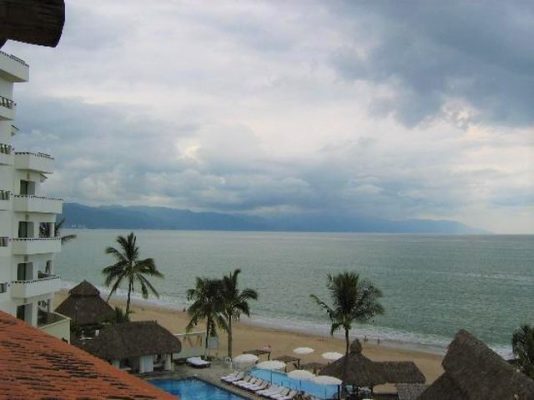 But it usually just threatens to rain, and doesn't actually rain. You can still take tours and go shopping in the mornings, but by afternoons, the heat is in full swing and it's best to settle into the swimming pool or the bay. A hotel room with AC is recommended for this season.
July thru October- Rainy Season-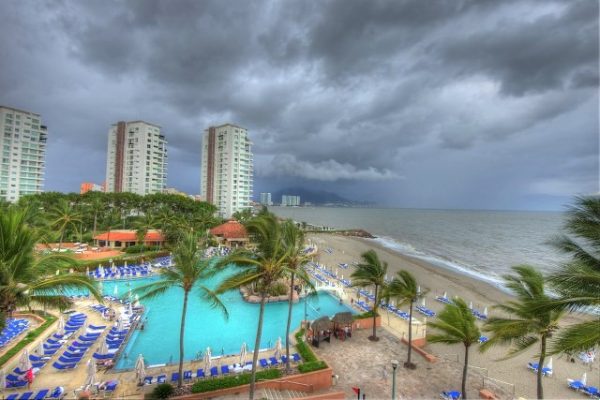 The rains start in earnest in late June and continue through October. It doesn't rain all day. The days begin partly sunny and cooler in the mornings. This is the time of day to explore, take tours, or hit the beach. By late afternoon, the thunderheads roll into the bay. 
Watching the rain storms approach the city is a spectacular show in itself. The rain, thunder, and lightning show gets cracking by 4 pm and can go well into the night.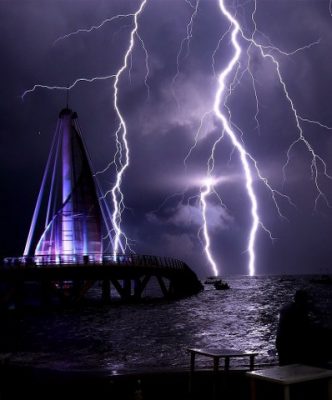 The rains are torrential and water pours down the mountains, in arroyos, toward the ocean. Here's a video of the rains taken from a hotel on the south shore.
Puerto Vallarta sits at the base of the Sierra Madre Mountains, so when rains run down the mountains, the streets in downtown Puerto Vallarta often flood.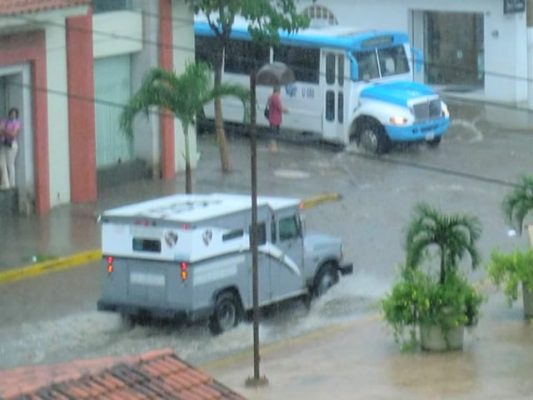 Locals wear sandals to slosh through the water, so the feet can quickly dry out. Sandals are essential footwear for all year in Puerto Vallarta.  
During the rainy season, the storms are amazing. Awesome big lightning strikes and the cracks and booms of thunder are scary loud. Indeed, Puerto Vallarta's electric storms instill a sense of awe.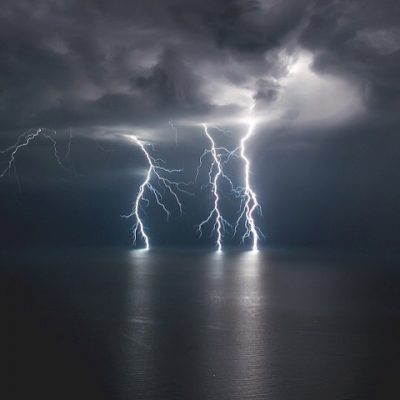 Summer storms in Vallarta reveal nature's most powerful and splendid displays.  The jungle greens up and the plants fill out in the gardens. Toads, sing out their extraterrestrial mating calls, as the rain storms approach. It's wonderfully wild up in the jungle during the rainy season. Birds and butterflies abound in the mornings and then take refuge when the afternoon rains arrive.
If you love tropical rain storms, with thunder and lightning shows striking on the bay, then come visit Puerto Vallarta during the summer. You will find a slow relaxed rhythm in the city, empty beaches, and the very lowest rates for hotel rooms. This is the time of year, you will want a room with air conditioning.
Hurricane Season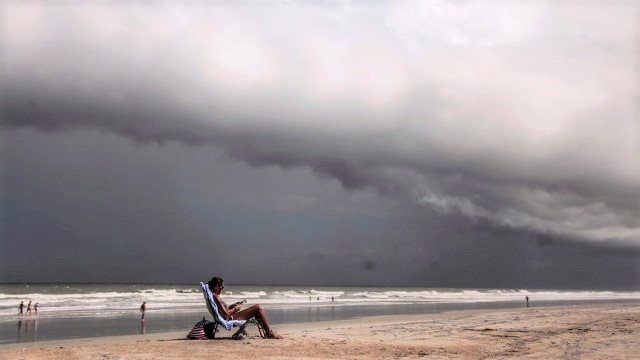 Our rainy season (July through October) also brings hurricanes that twirl up the West Coast of Mexico. Most of the hurricanes form in warm waters off the coast of Central America and twirl in a Northwest direction along the Mexican Coast (away from land). When they occasionally  turn east, toward land, then Vallarta can be vulnerable to a hurricane. But very few of the Hurricanes actually enter the Bay of Banderas.
The last hurricane to brush the Bay of Banderas was Hurricane Kenna in late October of 2002.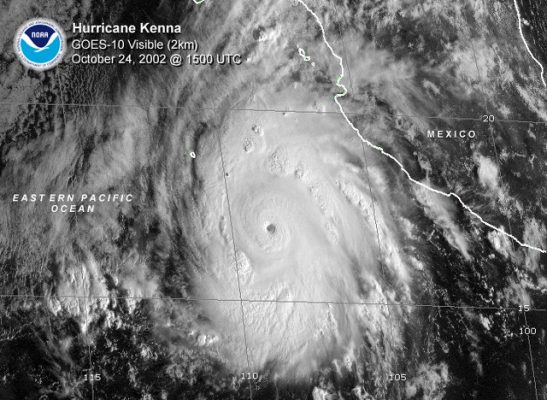 Kenna brought 145 mph winds (233 kph) along the coast, but the storm surge of the bay is what damaged the Malecon in downtown Puerto Vallarta and resulted in over 101 million dollars in property damages.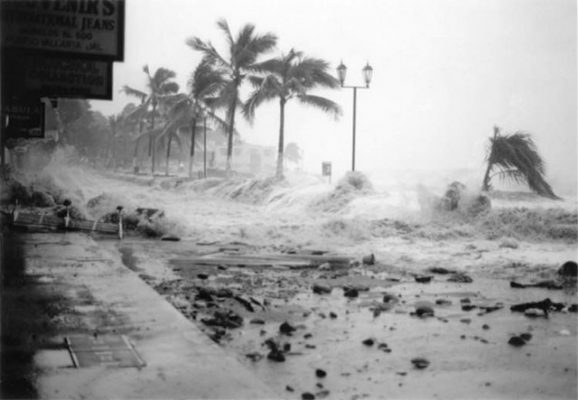 Here's a video of Kenna's impressive storm surge hitting our coast (taken at Hotel Villa Del Palmar). While Puerto Vallarta is seldom impacted by hurricanes on a dangerous level, local authorities closely monitor the storms as they approach to ensure people in the region are not harmed.  Mandatory evacuations, to inland locations, are sometimes ordered, when necessary to keep visitors and residents safe. 
Precautions for Hurricane Season
When traveling during hurricane season, you can monitor the storms and stay aware of impending severe weather by signing up for free weather alerts here. When severe weather arises, they send free alerts to your email, every three hours, with reports from the National Weather service. Tropical depressions, tropical storms and hurricanes are tracked. Another good source for tracking severe weather in real time is accuweather.
Surfing Season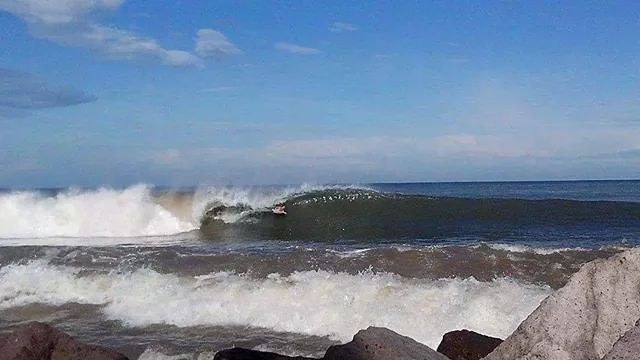 The best time for surfing this coast is in the summer. Warmer water and big waves form in the bay as storms twirl northward offshore and parallel to the Mexican coastline. Expert surfers can be seen out there catching the big waves.  
Summer brings the most dramatic and powerful displays of nature in the bay, and for this reason, summer is a favorite season for many of the locals here in Puerto Vallarta.
Best Time to Visit – November
The rains and humidity wind down in late October and milder temperatures return to the Bay of Banderas by November. Hurricane season is over, and the tourists haven't arrived quite yet. The jungle is still green and lush from the rainy season. And hotel rates are still discounted. November is an ideal time to visit Puerto Vallarta.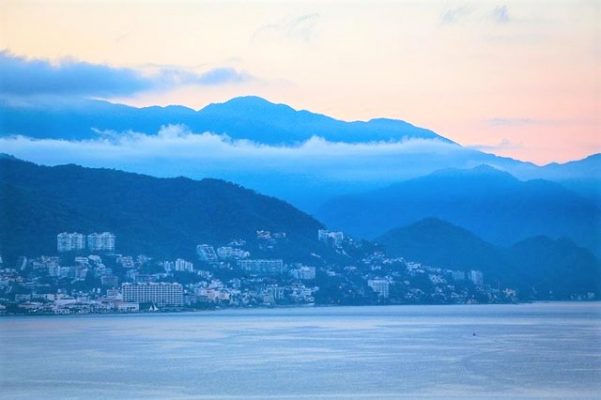 The truth is, every season in Vallarta has its charms and every season is a good time to visit Puerto Vallarta! And while you are visiting Puerto Vallarta, come take a food tour with us!!
The tours are a lot of fun! We guide you to the best authentic Mexican food in Puerto Vallarta! Take our tour and become a local in just three hours!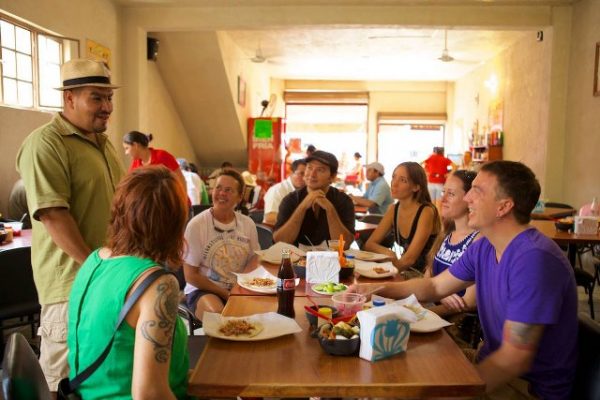 If you are visiting in summer, during the warmer temperatures, consider taking our van tour. Tour around the city of Vallarta, in a comfy air conditioned Sprinter Van, sampling food in five different neighborhoods and never break a sweat. The van tour has amazing food. Here's a link to our Van Tour, which we call Vallarta by Road.
Here's a link to compare all our food tours.
Revelations about Puerto Vallarta Weather
When you are sitting on the beach in Puerto Vallarta, with your toes in the sand, a cold beverage in your hand, and a stunning view of the Bay of Banderas, you suddenly realize, all's right with the world, it's all good, including the weather!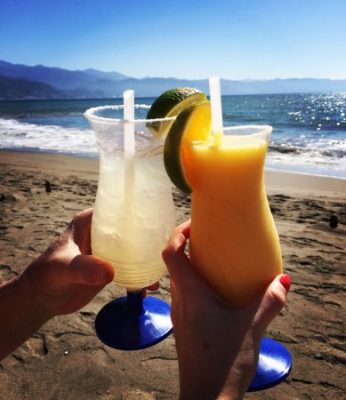 Until next time, we'll see you out there on tour!