Pairing tacos and wine is not easy. There are several styles of tacos and dozens of different salsas and fillings, so the room for error when trying to create the perfect taco and wine pairing is enormous.
To help us out, we asked our favorite wine gals from Uncork Mexico, to tell us their three favorite fail-proof pairings. Here's what we learned:
Pairing fish tacos and wine
This is a combination made in heaven! Especially if you enjoy white and sparkling wines, skipping the cold beer and pairing your fish taco with a dry, non-oaky wine can bring the experience to a whole new level!
For white wines, look for crisp, light wines such as Vinho Verde or a very fresh Sauvignon Blanc. If you feel like bubbles, a Prosecco or Spanish Cava will go beautifully. Just make sure you select a sparkling wine that says Brut or Brut Nature on the label – those have the lowest amount of residual sugar and taste extra crisp and refreshing.
Extra tip: if you're buying a Prosecco, make sure to look for wines produced in the Conegliano or Valdobbiadene regions – those are regions known for high-quality prosecco.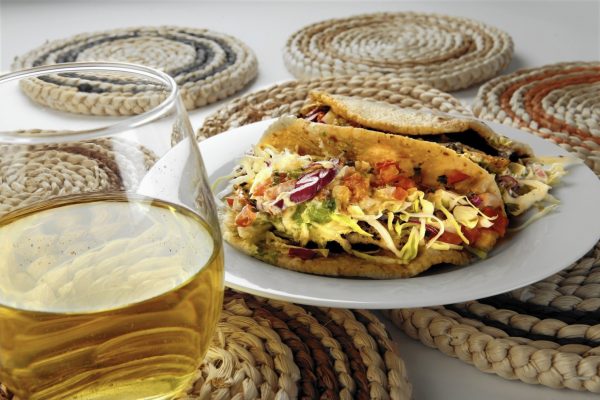 Pairing carne asada tacos and wine
Who doesn't love a carne asada taco? They are usually the highlight of our Street Taco Tour and the most recognizable taco out there.
Here's the good news for wine drinkers: they pair beautifully with red wine! However, there are a couple of things you must be careful of: the lime squeeze and the spicy salsas.
If you love a lime squeeze on top of your carne asada taco, it's better to pair it with a margarita or beer instead. The acidity of the lime will make the red wine taste bitter, and … well, nasty is the word that comes to mind.
If you're willing to skip the lime squeeze, then you're in for a treat! Carne asada tacos pair especially well with wines that are fruit-forward, medium-body and not too oaky.
Why not too oaky? Because you don't want the oak notes from the wine to overpower your salsas! Everything should work together harmoniously – the concept of pairing is that both the taco and the wine should complement and elevate each other.
Look for wines produced with Tempranillo, Monastrell and Grenache grapes. Skip wines with labels that say "Reserva" or ask the staff about the ageing. You don't want any wines with more than one year of oak ageing, and you definitely don't want wines that were aged in New French oak – those wines are lovely, but not the right pick for this pairing.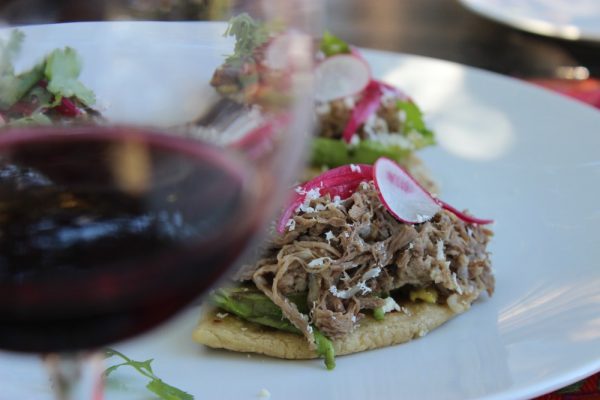 Pairing tacos al pastor and wine
Tacos al Pastor, which we highlighted as the King of Street Tacos in our Insider Guide to Street Tacos, is deceivingly complex in flavor. Don't believe our word? Tacos al Pastor was voted the best dish in the world by Taste Atlas in 2019.
To recap: the filling of an al pastor taco has the juicy marinated pork, the spices from the adobada (recipes vary for each taqueria but it might include chiles, vinegar, onion, garlic, cumin, turmeric, black pepper, oregano, cinnamon, etc) and it's topped off with the sweetness of the pineapple. So, how can this work with wine?
There are two pairing styles that can work: the easiest option is to go with a super jammy and low tannin red wine such as a Zinfandel or a new world Pinot Noir (by New World we mean California, Mexico, Chile, everything outside of Europe).
The more adventurous pairing option is a medium-body, off-dry aromatic white wine. How does that work? It's counter-intuitive, but aromatic off-dry wines and spicy foods are a great pairing. The spice and sweetness balance each other out and it makes so that your palate literally craves a sip of wine after a bite of food, and a bite of food after each wine sip – a match made in heaven!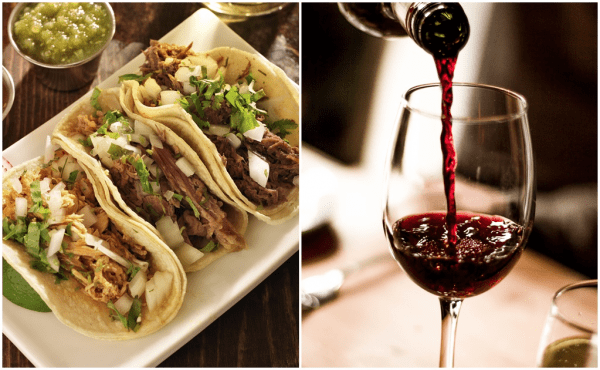 For this pairing, look for Gewurztraminer, Riesling or Moscato Giallo grapes.
Uncork Mexico is an online wine shop based in Puerto Vallarta. They offer a curated selection of boutique Mexican wines, natural wines and all sorts of off-the-beaten path wines you may need to enjoy your time in Puerto Vallarta. They offer free delivery in Puerto Vallarta and secure shipping to all of Mexico.