Enjoy 4 handcrafted cocktails and 6 food tastings!!
Tacos, Tequila, and Authentic Regional Favorites. On this 4-hour walking tour, you will taste the best Mexican food and drinks Bucerías has to offer. We know that tacos and tequila are on your list of food and drink priorities and this culinary tour has tasty tacos, delicious hand crafted cocktails, regional dishes and more.
We take you to locally owned restaurants and street food stands you might not find on your own but certainly don't want to miss. Along the way, your expert guide will educate and entertain you with stories and insights into Bucerias's culture, architecture and history, while exploring the areas most fascinating offbeat landmarks.
The tour starts with great food and drinks. Then we add a slice of history , some laughter , and a dash of adventure to make the perfect recipe for an memorable afternoon!
Enjoy the Bucerias's charm and hidden cultural gems off-the-beaten-path as you taste signature food and drink with a local guide

Experiences led by Locals. Let our local Rockstar guides show you the REAL Bucerias

Learn the amazing stories of Bucerias local food heroes and their regional creations.

Uncover where the locals really eat, drink and shop in Bucerias

Immerse Yourself in Food, Culture & History

Enjoy mouthwatering regional cuisine from 6 different tasting locations.(6 tastings & 4 drinks)

Learn about the history, ingredients and cooking process of these delicious regional dishes

Taste and learn about the different Agave Spirits including mezcal, racilla and tequila and what makes them unique

Unforgettable memories filled with food, laughter, and meeting new friends

We provide access to places where locals eat and drink and give insider tips you wouldn't learn otherwise

By the end, you will know the best places to eat and drink in Bucerias
CAPACITY:
10 people
1 tour guide
WEATHER:
Tour takes place rain or shine
WHAT TO WEAR:
Comfortable clothing and shoes
WHO:
Adults older than 18. Custom tours can be arranged for younger than 18
TOUR INCLUDES:
8 tastings. expert tour guide, tasting map with insiders recommendations
START LOCATION:
Karen's Place
TRIP ADVISOR:
#1 tour in Vallarta with over 5000 reviews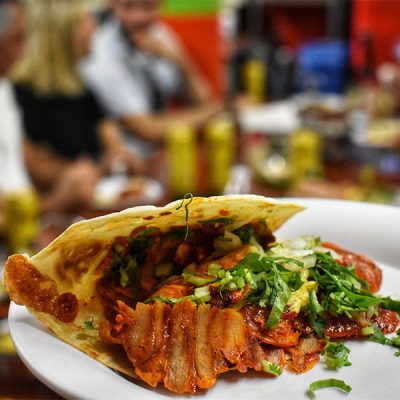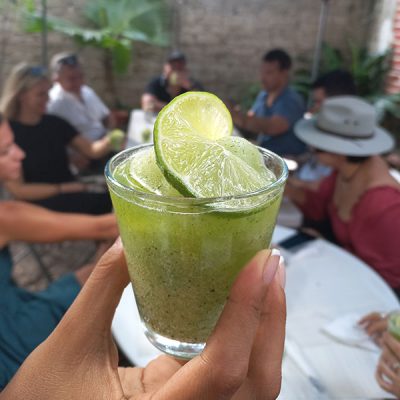 Jalapeño Cucumber Margarita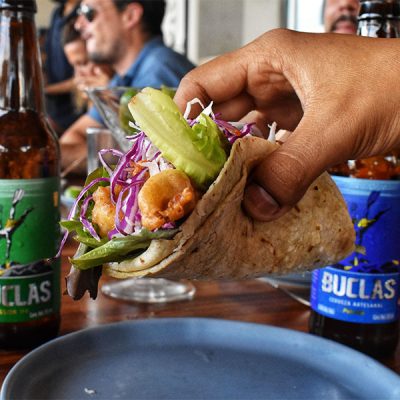 Famous Fish Taco with Local Beer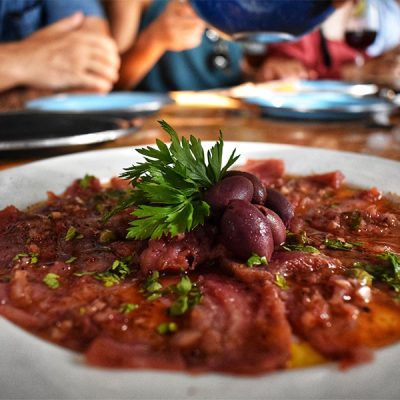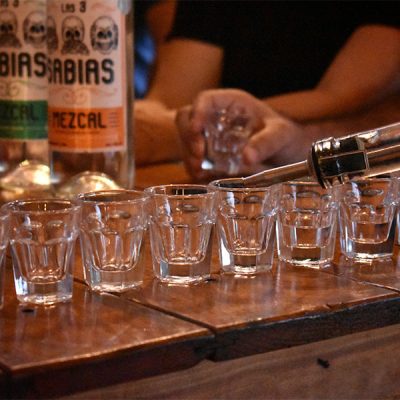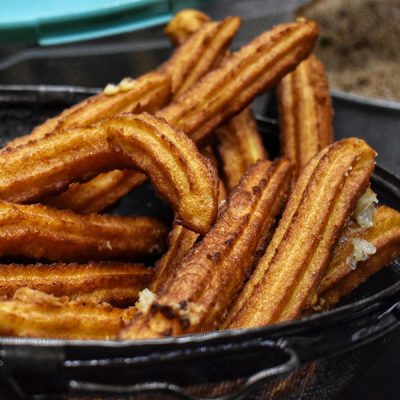 What to expect from this tour?
A Culinary Tour With A Bit Of History – We share the story behind the food, including the history of each restaurant and regional Mexican dish. We also share some of the highlights of Bucerias's rich local culture.
Discover Hidden Gems-Uncover where the locals really eat, drink and shop in Bucerias
Insider Scoop- Insider look at 7 local vendors and entertaining stories of Vallarta rich history and culture!
Becoming a local in 3 Hours-Our goal is to give you a taste of local life from a local's perspective! Food tours give you enough authenticity to feel like you've discovered something new, combined with a carefully planned itinerary to ensure the experience is safe and fun
Of the Beaten Path-Get a glimpse of daily life while tasting the best of what Bucerias has to offer. Avoid tourist traps and let us do the homework and dont miss out on Bucerias's best food
Good things come in small packages-Enjoy the intimacy of a small group
Food Heroes-Our restaurants are local legends, family-owned and often specialize in only one dish, which means the quality is high and the flavor is even better.
Experience Authentic Mexico. With over 1,000 restaurants to choose from in Bay it can be overwhelming to decide where to eat. We introduce you to the local gems serving the best regional cuisine our city has to offer.
#1 Tour in Vallarta out of 400 tours in TripAdvisor- We are the #1 ranked attraction on Google and TripAdvisor with a 5-star average with 4,000+ reviews and over 10 years of experience.
Memories-You'll leave with local tips and memories that will last forever
Foodie Discovery-Discover a locals foodie paradise in Bucerias as you eat your way through famous restaurants and artisan hotspots
Something For Everyone. This is the perfect shore excursion for your day at port, a fun way to spend a few hours outside of your all-inclusive and is ideal for anyone looking for a small-group tour that isn't too touristy. We see a lot of snowbirds and expats on this tour too.
Foodie Fun. If you love to eat this is the tour for you. Take your tour early in your vacation so that you can return to the spots you enjoyed most. Make a few new foodie friends along the way!
Learn through Food-You will learn the distinct and unique tastes of each of these regional dishes, native spirits, as well as learn about the process of how they are made and the importance to the Mexican Culture.
Discover new favorites-Experience iconic foods and hidden gems of Bucerias during your visit
Total Immersion-Immerse Yourself in Food, history and culture in 3 hours!
STRESS FREE REFUND POLICY
Tour bookings are fully refundable up to 48 hours before your tour date, and we can also swap you into a different tour if there's availability. A change of plans is no problem.