If you're new to Puerto Vallarta, you might find it a bit overwhelming at first! It can be hard to know where to look sometimes. And with so many amazing activities, foods, drinks, and places to try, there's potential for a new adventure around every corner.
Here is our Top 5 list of best things to do in Puerto Vallarta if you're visiting for the very first time. It was hard to edit it down to such a small list, but these 5 things really are the quintessential Vallarta experience, we think you'll agree!
#1 See The Papantla Flyers
It's one of those things that just wouldn't "fly" in the US or Canada… and that makes it all the more spectacular when you see the show for yourself in real life. You know the show is starting soon because the faint song of a reed flute can be heard… if you look around, you'll find him sitting nearby, often alone, playing the song that heralds the beginning of a new ritual.
This is a ritual that is performed all over Mexico, it's not unique to Vallarta or even the state of Jalisco. It's deeply rooted in Mexican tradition and lore, an offering to the gods, that they may bless the people with an abundant growing season and fertile soil.
As the flutist plays, along with his four comrades, he climbs to the top of a pole. This is the closest these mortals can get to Chi'chini, the Sun God. The positions the flyers take represent the four elements: water, earth, fire, and air. One by one, with nothing but a rope tied to one ankle, they leap from the top of the pole. With each turn of the pole, a little more rope is paid out, until their fingertips graze the earth after exactly thirteen spins, fifty-two in total, equalling the number of weeks in a year and the years in their prehispanic cosmic cycle.
It's incredible to see in real life! And these guys work for tips, so be sure and show them some love for their death-defying stunt work.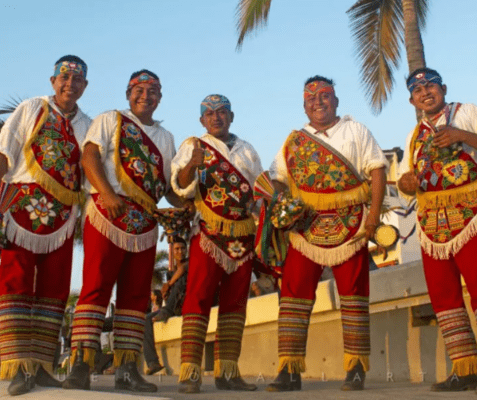 #2 Visit Los Muertos Beach (Beach of the Dead)
Depending on who you ask, there are different theories on how Playa los Muertos (Beach of the Dead) got its name. Many believe it comes from the death and destruction that pirates caused when they stormed the bay, raping and pillaging as they went. Legends from the era say that skeletons were unearthed upon breaking ground on the first beachfront hotels, and that's how the Beach of the Dead got its name.
Few sights are more iconic in Puerto Vallarta than the picturesque Los Muertos pier, particularly with the picture-perfect way it's lit at night. The pier really has a way of creating a different kind of energy in that part of town… lively and upbeat. There are tons of amazing restaurants to try, and the same goes for beach clubs. Grab yourself a chaise, or just bring your own beach blanket and post up anywhere. Want a mani-pedi? You're covered. Massage? Don't move a muscle, they'll come right to you. If you like shopping, you can shop right from your chaise, all day long, as the parade of vendors wanders past. A day at Los Muertos beach is the quintessential Vallarta day. Don't forget to try a mango on a stick… you'll be glad you did!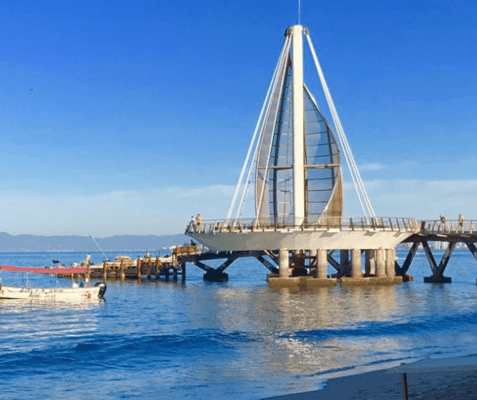 #3 Vallarta's Stunning Botanical Garden
The mission statement on the Vallarta Botanical Garden website reads: "To create Mexico's foremost botanical garden for the propagation, study, discovery, conservation, and display of Mexican native plants for the enjoyment of Puerto Vallarta´s residents and our visitors."
One look at the sprawling property with flourishing plant life as far as the eye can see, and you know that mission is being accomplished every single day by the hard working staff that have been caring for this land since 2004.
They've also been slowly buying up the plots of land that border the property, thanks to the generous support of Botanical Garden members and benefactors. These purchases aren't so the garden can expand further, but rather so the land can be kept in the pristine condition it's currently in, untouchable by developers.
The Vallarta Botanical Garden is a spectacular demonstration of not just the fertile nature of this land… but the sheer depth and breadth of the plant species native to tropical Mexico, and the love and care involved in keeping them healthy and strong. The Botanical Garden is a bit south, through thick tropical jungles, so expect a beautiful journey there and back. Grab your binoculars, bug spray, and get comfortable. You are in for a magnificent experience that you won't soon forget!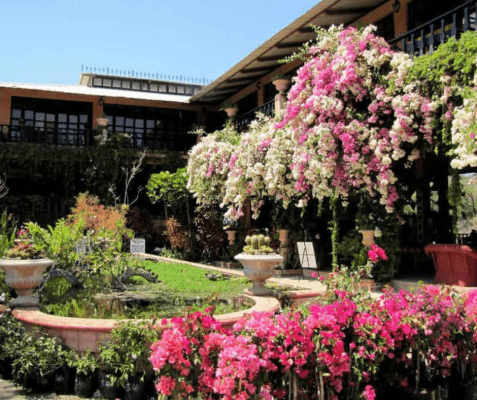 #4 Sweat It Out With A Hike To The Cross
Known to many by its Spanish name, El Mirador de la Cruz, this lookout high above the El Centro neighborhood allows you to see for miles in every direction. As you might guess, it takes a little doing to get there. There are 200+ stairs, and it may take you anywhere from 10-20 minutes to walk to the top from the base of the (very steep) hill.
For this adventure you'll want comfortable walking shoes, and during the hot months, a bottle of water is a great idea too. If you're in relatively decent shape and have no injuries that cause pain in the hips or knees, the hike to the cross should be a good and attainable workout for you. The perfect thing to do right before happy hour! In fact, you can just walk straight down the hill and you're right there on the Malecon where all the action is.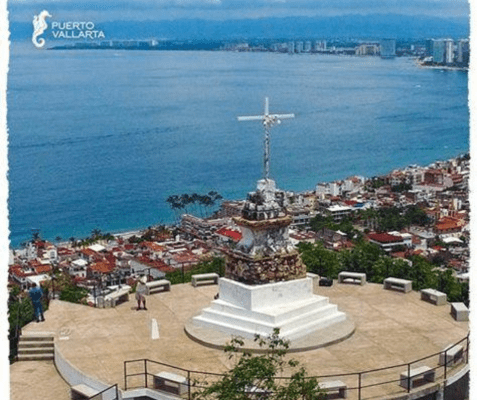 #5 Become A Local In A Few Hours With A Taco Tour
Your first time in a new city can be a bit overwhelming. Everything is foreign, there is nothing familiar at all, and that can make it difficult to get your bearings. This is one reason a nice long walkabout, with a map (or better yet a guided walking tour) is a nice addition to any newcomer's itinerary.
Another important way that many people find their footing in a new town is through its gastronomy. Knowing where the best of what's local can be found, and who's eating there, can help build a map in your head of the area, add some context.
On our Original Downtown Tour, alongside the friendliest bilingual guide in town, you'll spend a few hours immersing yourself in the culture of Vallarta's downtown and Old Town districts. It's a walking tour and a food tour all in one! You'll enjoy 8 one-of-a-kind food tastings, including tacos and other iconic regional dishes. Our Original Downtown Tour was voted the #4 food experience in the world by TripAdvisor in 2020. So you know it's going to hit the spot on your trip to Vallarta! Learn more and book here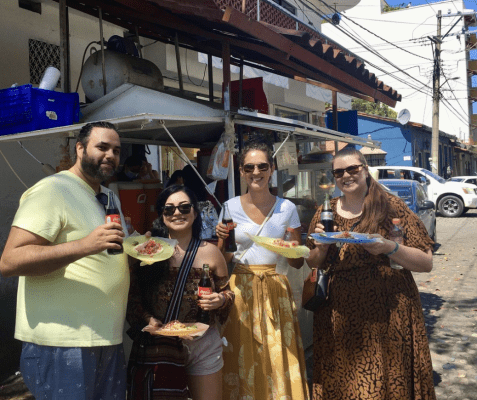 No matter what you choose to do on your first trip to Vallarta, you're bound to have a great time! With friendly locals, fabulous art everywhere you look, a to-die-for local gastronomy scene, and some pretty amazing bars and clubs too, it's hard not to have the time of your life in this seaside city that we love. So what are you waiting for, go on and book your trip! And be sure to stop in at The Tasting Room when you come. We'll teach you all about the agave spirits Mexico is famous for, and share some more amazing local hot spots to try!