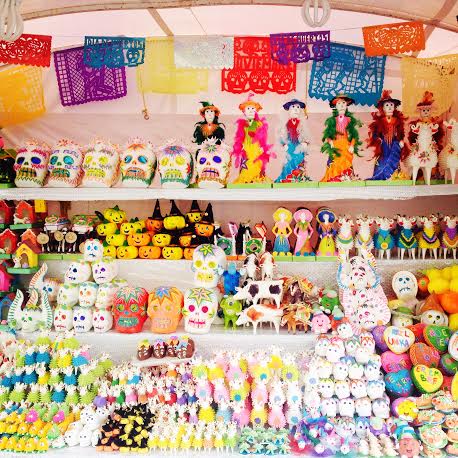 Mexico's Dia de los Muertos, or Day of the Dead, is cause for celebration, a time when families pay tribute to beloved members of their families that have passed away.  Taking place over two days – November 1st and 2nd – families congregate, create altars in homage and make ofrendas, or offerings to their deceased. It is not spooky or macabre, but rather reverential – a time when the spirit of the deceased is thought to pay visit to those family members that have been left behind.
Anticipating the Day of the Dead, families clear a section of their home to install an altar comprising of appropriate offerings that reflect both the tradition and the deceased's individual likes. Offerings could include candles to help light the path, soap to aid the traveling spirit's clean-up, photos, a favorite beverage such as tequila or beer, food and welcoming flowers.
Among the most popular ofrendas are sugar skulls – colorful sugar skulls hailing from Central and Southern Mexico. The skulls are prepared from a sugar mixture that is pressed into molds and later dried. After the drying, they are decorated with both edible and non-edible decorations.
Pan de Muertos, Bread of the Dead, is a sugary, sweet bread that is eaten by the families of the deceased and sometimes placed on the altar. The bread is molded into a loaf with the top being twisted to resemble bones. The bread is then baked, glazed and covered with colorful sugar.
Another dish, is candied pumpkins made from fresh pumpkin slices that are glazed with piloncillo, made from pure, unrefined sugar that is similar to brown sugar with a molasses flavor. All of this sweetness pairs up perfectly with atole, a warm cup of corn and masa that is meant to nourish and warm the living and the dead.
The festivities continue outside of the families' homes with a pilgrimage to the cemetery to decorate and clean up gravesites.  Day of the Dead is a fitting celebration of their loved ones that have passed on- a wonderful tribute.
Here in Puerto Vallarta, you will find some of these dishes in the main square by Guadalupe church and 
El Arrayan
is having a special Dia de los Muertos menu from now until November 3.  Also, Happy Halloween!!